W

hat is eFront Pro?
The Learning Management System eFront Pro is also known as a Talent Development platform. Its main motto is "to make your talent thrive" and a variety of features and functions contribute to this goal. The platform was developed by Epignosis company. The initial platform development started in 2001 and since that time it has already been rewritten and has undergone a variety of changes. It is an open-source learning system that is considered to be the Moodle alternative.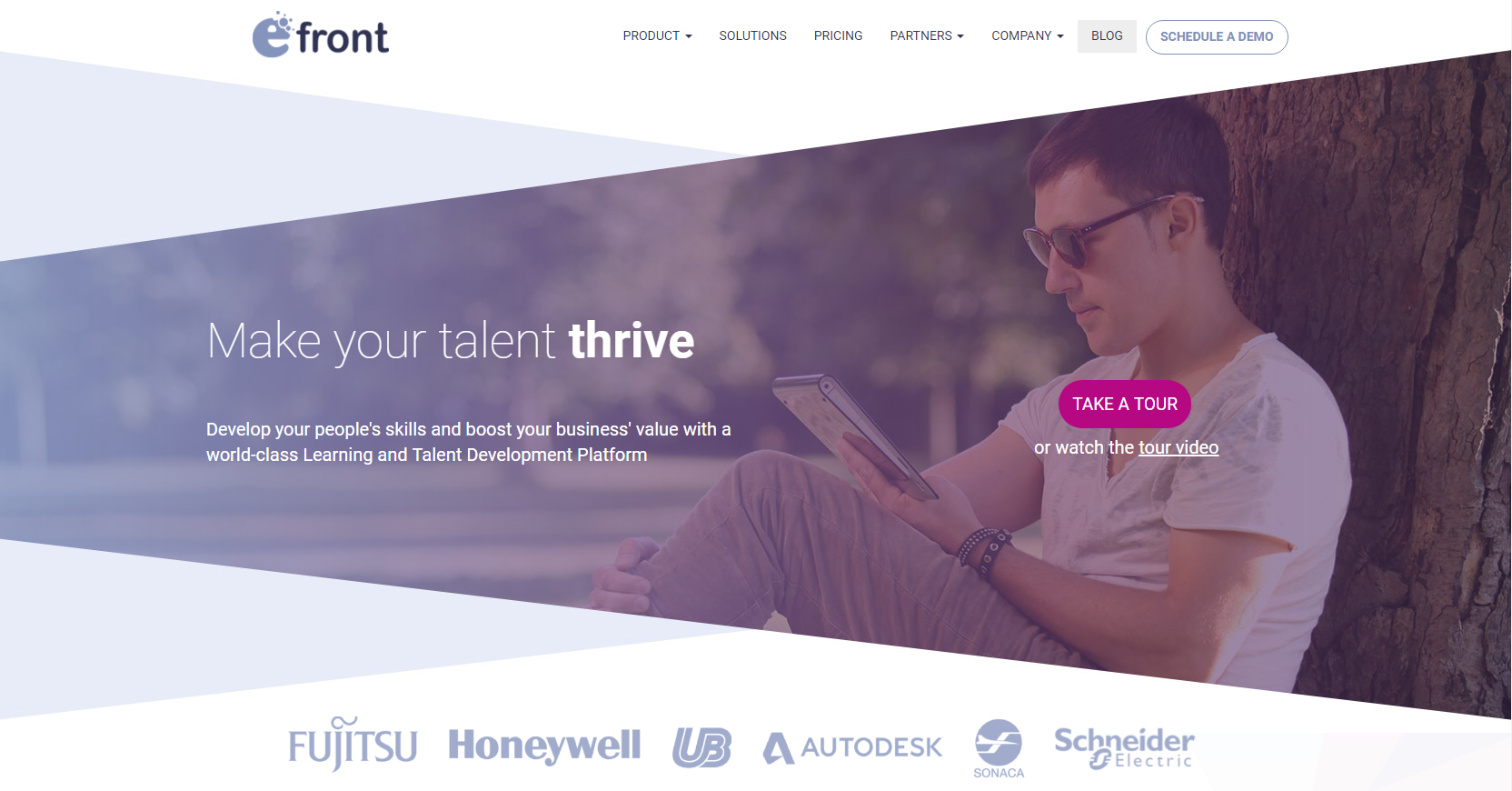 The mission of the development company is to make e-learning both accessible and affordable to every company and organization, so it is not surprising that eFront Pro offers such a wide functionality.
The platform aims large enterprises, mid-size businesses, and public administrations. It offers both the web and mobile version as well as professional support options including FAQs, a Knowledge Base, Video Tutorials, online support etc.
eFront Pro is perfect for improvement learning and development, compliance ensuring, progress tracking, engaging the staff and managing teams.

Being a professional learning platform eFront Pro list of features is extremely big. The most comprehensive presentation of the platform features is provided on the website.

All features are divided into five main categories:
Course management that includes:
Course building using friendly content;

Assessment engine with various question and test types as well as detailed reports on their results;

Course Marketplace that allows purchasing necessary courses;

An extensive file storage for organizing, reusing or sharing files;

SCORM & TinCan support;

The engine for collection and analysis of survey responses;

Creation of individual learning paths.
Learning delivery that includes:
Combination of e-learning and instructor-led training;

Certification issue;

Different communication tools including chats, forums, emails etc.;

Support for e-commerce: possibility to sell courses of your creation;

Make up curriculums out of the created courses;

Support of video conferences;

Possibility to download files and work offline.
Enterprise ready version includes:
Reports about various objects;

Provides professional skill development;

Distinguishing between user types and limiting their access to some functionality;

A single sign-on;

Customizable profiles of both users and courses;

An extensive API;

Premium security settings;

Presence of mass actions to ease administration functions;

No lost files with archiving feature.

Customization that includes:
Choice of the preferable theme;

Plug-in architecture for unbelievable extensions;

Website builder;

Accessible source code.
Technology that includes:
Responsive and user-friendly design;

High-level scalability;

Compatibility with most modern OS;

Use of the latest technologies and up-to-date web standards;

Accessibility;

Multilinguality (support for English, German, French, Russian, Chinese, Italian and many others).

This elearning portal can be easily integrated into a variety of third party apps and services.

The most popular integrations of eFront are with:
Videoconferencing services: WebEx, BigBlueButton, Webinar.ru etc.;
Social media websites and single sign on: Facebook, Twitter, SAML 2 etc.;

E-learning standards, formats, and protocols;

Integration of any content: OpenSesame, MathJS, EncodeMagic etc.;
JavaScript-based services: Zopim, Google Analytics etc.;

API and Plugins;

Others: WordPress, Twilio, IBM connections etc.

Despite the fact that eFront Pro can not be called a free elearning software it offers its clients a completely free trial version without the credit card data.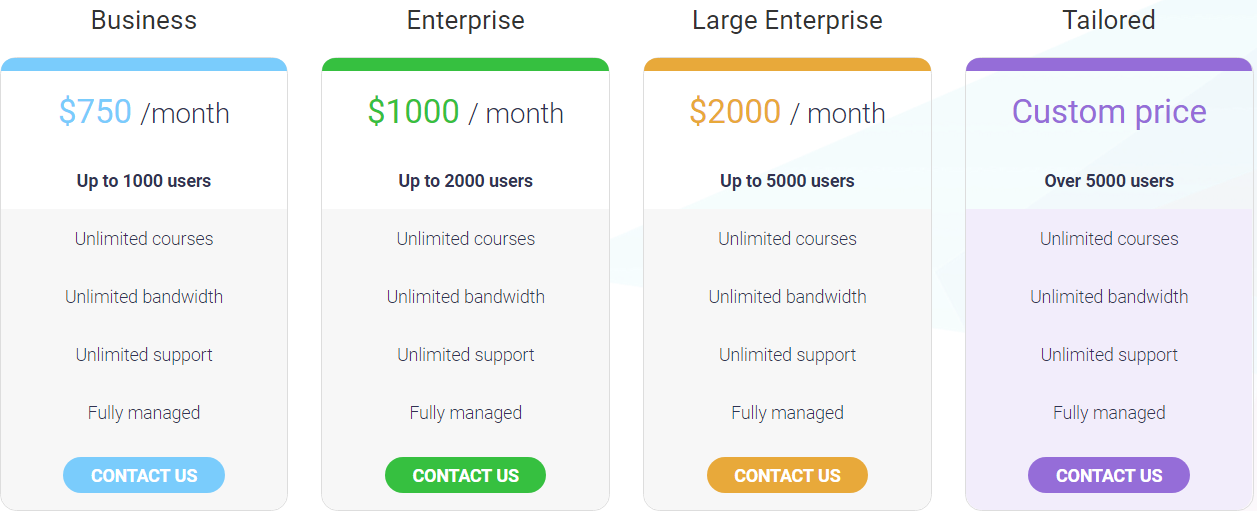 Organizations can opt for one of four available paid packages. Each of them offers unlimited courses, bandwidth, support and is fully managed as well. The difference in the packages is in the number of members and cost:
Business: up to 1,000 members for $750 per month.

Enterprise: up to 2,000 members for $1,000 per month.

Large enterprise: up to 5,000 members for $2,000 per month.

Tailored: from 5,000 users for a custom price.

Almost each eFront review calls this platform the best LMS software.

There are numerous benefits mentioned by users including the following:
It is modern, customizable and powerful;

It seamlessly works on different devices such as desktop PC, mobile phones, and tablets;

Ease of crafting courses using numerous sources;

Possibility to work both offline and online;

Funny and interesting learning activities followed by tests;

Perfect for improving skills management;

Simple and at the same time detailed reports about learning results;

An extensive range of gamification features;

Possibility to team up and create communities;

Flexibility and open-source technology;

Highly capable support team;

Intuitively understandable user interface and vast functionality etc.

At the same time, every e-learning software has its negative sides and eFront is not an exception. Users have found out the following drawbacks of the platform:
Bugs in the administrative module functions that may make unnecessary calls.

Rather expensive pricing policy.

It can not be implemented and maintained without a professional engineer.

Lack of advanced admin features that are possessed by its competitors.

Automatic updates do not work sometimes.

The notice of expiring license is incredibly often and annoying.

eFront LMS is one of a few course management systems that has 100% satisfaction rate on many websites. The software is really professional and greatly developed. It can be used not only by businesses and organizations but also educational establishments. The platform meets the brand preferences and issues certifications to confirm the knowledge level. It is very comfortable that a system delegates courses to staff in accordance with their skills while course creators can share their developments and get paid for that.
Noplag is a leading writing education software that helps students throughout the world to master their writing skills and knowledge!
Noplag Reviews eFrontPro – a Strong Learning and Talent Development Platform