What is Grovo?
Grovo is an online learning management system developed for educating corporate teams and groups of people. It is mainly focused on business that offers staff training using microlearning technology. Both individuals and enterprises can improve digital skills to achieve higher profits and develop.
Grovo is a product of the American company with the same name. It was launched in 2010 by a group of men, Jeff Fernandez, Nick Narodny, and Surag Mungekar, who originally offered educational videos for improving digital skills. The shift to the mass learning technology was made in 2013 when they made an accent on microlearning approach for staff training.
Microlearning is a learning approach according to which you acquire new knowledge and skills by watching or listening to short videos and audio lessons. These lessons are accompanied by quizzes and practice tests to assess how well you have mastered the topic.
Grovo has a library with videos in the following fields: digital, soft skills, human resource, management and compliance training.
All the videos are created by the Grovo team in the offices in New York and San Francisco. They track all the novelties of the digital world to provide their clients with fresh and important information to learn.
Grovo LMS features
Grovo website offers training that leads to transformation. The tool positions itself as a learning platform, a library, and content creator. That means that every user can be a learner, a content creator, and administrator of the LMS.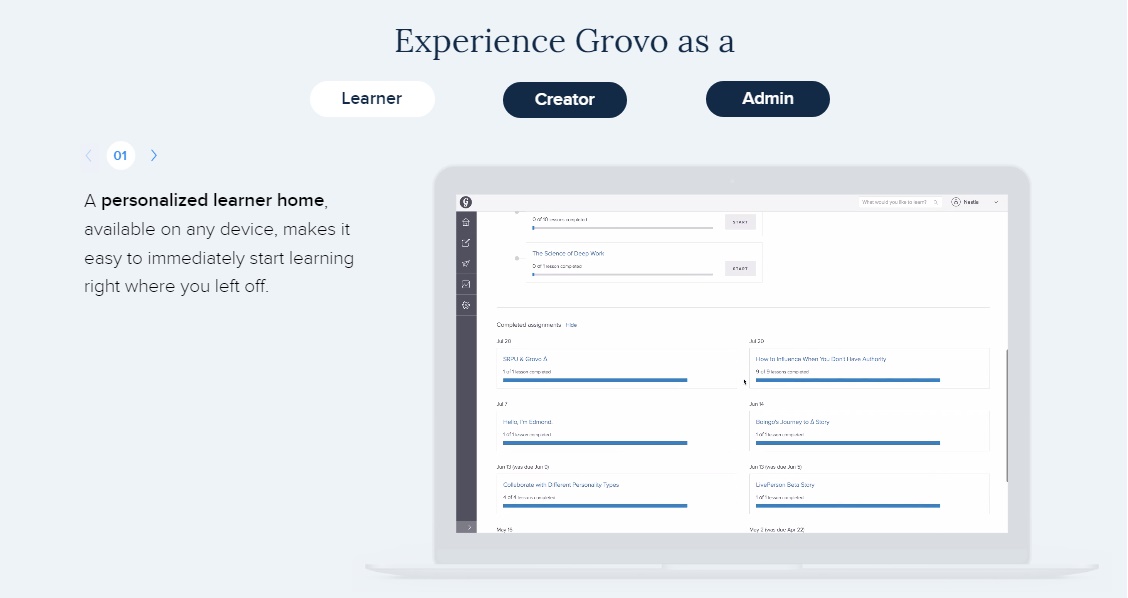 There are several features for every category of users. Grovo learners can:
Get a cross-platform personalized learning home to be accessed from anywhere and anytime;
Video content is displayed by an immersive lesson player;
There is a powerful search bar and an opportunity to search video by tag.
Grovo users may try their hand at creating their own content that can be then used by other users. Grovo offers:
A card format and templates for creating microlearning lessons without experience;
Adding material by drag-and-drop function;
An opportunity to customize, edit, add and remove cards anytime;
To make lessons accessible to learners by clicking "Publish" button;
To upload files in SCORM, PDF and PPT formats to add them to videos.
Admins are given a perfect chance by Grovo to teach the company employees material that is really necessary. They can:
Assign learning both from the library or personal files;
Pre-plan learning program;
Automate learning assignments and assessment by groups;
Keep track of the progress of each learner through instant insights and reports;
Update material regularly;
Use Grovo API for seamless integration;
Create educational materials yourself;
Choose from the existing library of teaching videos.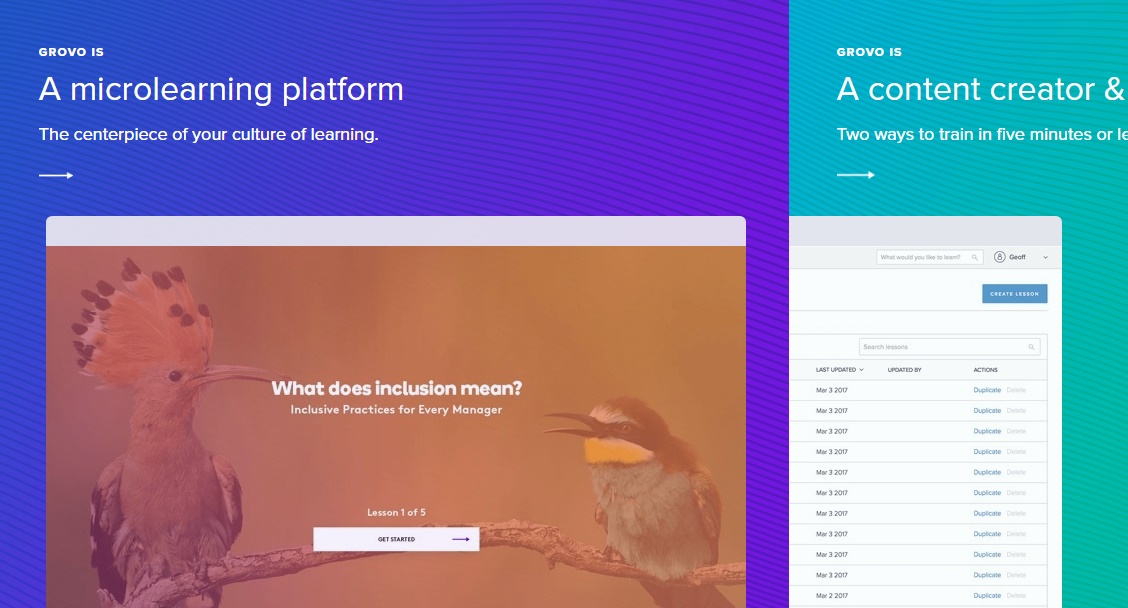 Grovo pricing
The pricing policy is based on paying for each learner. There are three main packages including:
1. Starter plan aims at small businesses and costs $69 per learner annually. It includes: – up to 5 Gb of content to upload by users;
access from the mobile device;
possibility to customize learning tracks and plans;
content management;
access to analytics;
templates based on competencies;
work on soft skills;
customer support.
2. Plus plan aims at middle-sized businesses and costs $109 per learner annually. There are all the benefits of the starter plan and several more:
A company-branded platform;
Up to 50Gb of content to upload by users;
Training of both digital and management skills.
3. The premium plan aims at large businesses and costs $139 per learner annually. There are all the features of both plans mentioned above plus:
Unlimited file uploading;
Lessons on Human Resource and compliance;
Access to performance analytics;
A sign-on integration and access to API.
One more plan aims at enterprises with over 5 thousand employees and its cost is discussed with the Grovo staff.
Grovo benefits
Some of the benefits are offered on the website of the microlearning platform. They are:
The onboarding process for new hires is faster. You can engage new employees with interesting learning materials to get a lasting knowledge of the topics important for your business.
The turnover of employees is decreased. Modern employees desire to get necessary knowledge for career growth and self-development so Grovo can provide them with this and help them to thrive in the company where they currently work.
Engagement for millennials.Young people always state a desire to study in the requirements to the job position they wish to obtain. Grovo content is of the bite-size so it can be easily learned for a couple of minutes.
Preparation of good management staff. It is a proven fact that a decent manager can save company billions of extra expenses. At the same time, professional training of every new manager can cost much too. Grovo offers high-quality training for managers that can be assigned automatically.
Increase in effectivity of the learning and development team. They can get a premium training and be empowered with great tools to provide better results.
The building of the learning culture. With the rapid development of the modern world, employees should keep up with new trends and adjust to realities.
Constant learning with Grovo can make this process easier and faster.
Sharing powerful knowledge. Grovo offers everyone to share knowledge and if a company has an expert who can teach other staff, it can be done through Grovo as well.
Grovo microlearning is thrice quicker to produce, twice more engaging and faster.
There are also other benefits of the microlearning platform mentioned in Grovo reviews:
Simple and intuitively understandable interface;
Really effective microlearning approach;
The competencies can be directly used at work;
The platform can be accessed from the desktop computer, tablet or mobile phone;
Pre-testing allows to learn only that material that is unknown to you;
Responsive customer support.
Grovo drawbacks
As well as any other platform Grovo has some negative sides according to its user reviews. There are some of them mentioned here:
Presence of some bugs that require fixing;
It is rather costly for some people;
Not comfortable scoring and reporting feature;
Inability to make a queue of training in the library;
The absence of certifications etc.
Conclusion
Grovo is a professional microlearning platform that is appreciated for its effectiveness and interactivity. It makes learning interesting and light so you will never have to wait for the video to finish. Moreover, it is constantly updated in accordance with the new requirements and innovations for its users to keep up with the latest trends. These and many other Grovo pros make the platform popular and highly appreciated.
Noplag is a leading writing education software that helps students throughout the world to master their writing skills and knowledge!
Grovo – A Microlearning Platform | Noplag Review