W

hat is Statista?
Statista is an online portal that sheds light on statistical data, business, analytics and market research. Users can look through any data on more than 80,000 topics. In general, the site contains more than 1,500,000 statistical data from over 18,000 resources. The latter ones include market and opinion research institutions, business, and private organizations, governmental establishments etc. It belongs to the world's largest statistics databases available in such languages as English, German, French, and Spanish.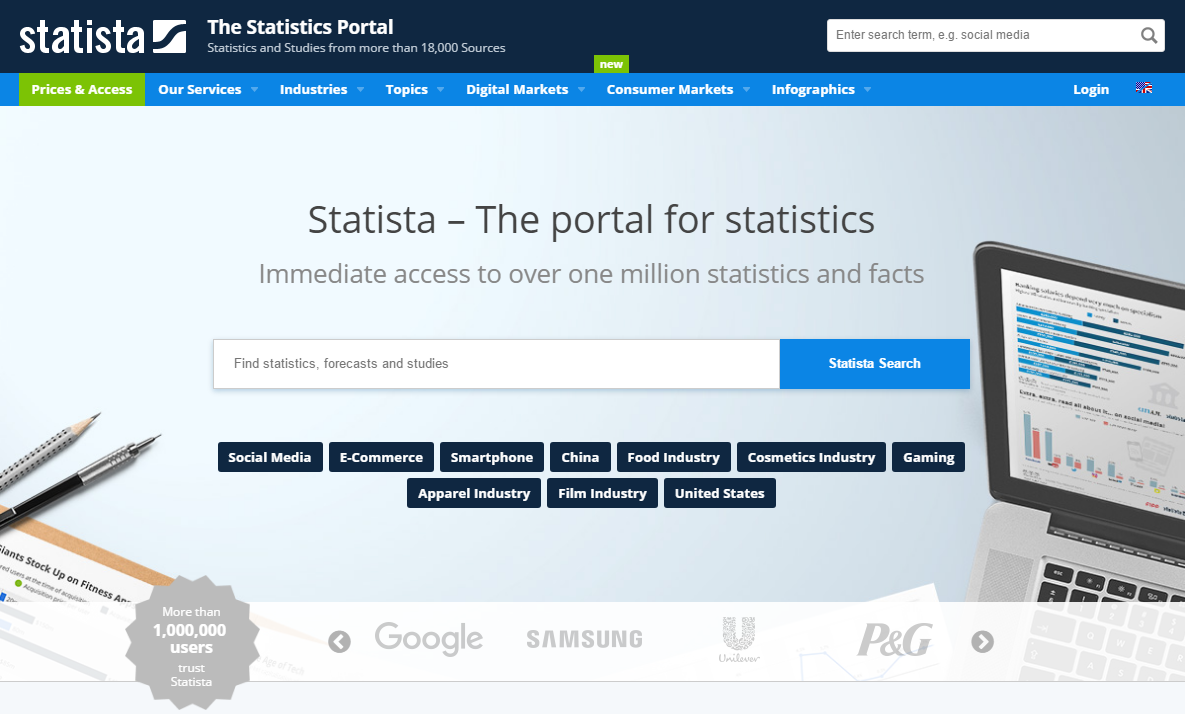 Quantitative data and related information available on the website is provided by 250 statisticians, experts, analysts, and editor.

Statista has been launched in 2008 thanks to hard and painstaking work of German entrepreneurs. Founded in Hamburg, today the service has headquarters in New York and London too. The group of creators takes information and data only from reputable sources including world's renowned publishing groups, business information centers, institutes, stats company etc. In 2011, the daily infographics service was added.
The start-up and modern version of the service have received many prizes and awards including the European Red Herring Prize and the Best Statistics Portal award. 

Statista offers statistical and quantitative data in bar charts and tables form. It is divided into 21 industry categories.

All the data provided on the website is accurate, responsive and specialized.
To find a necessary chart it is enough to type a keyword.
The professional editors provide visitors with statistics dossiers customized to their needs.
Any statistical data can be downloaded in 4 main formats and integrated into the workflow.
To get access to free statistics data online each user should sign up.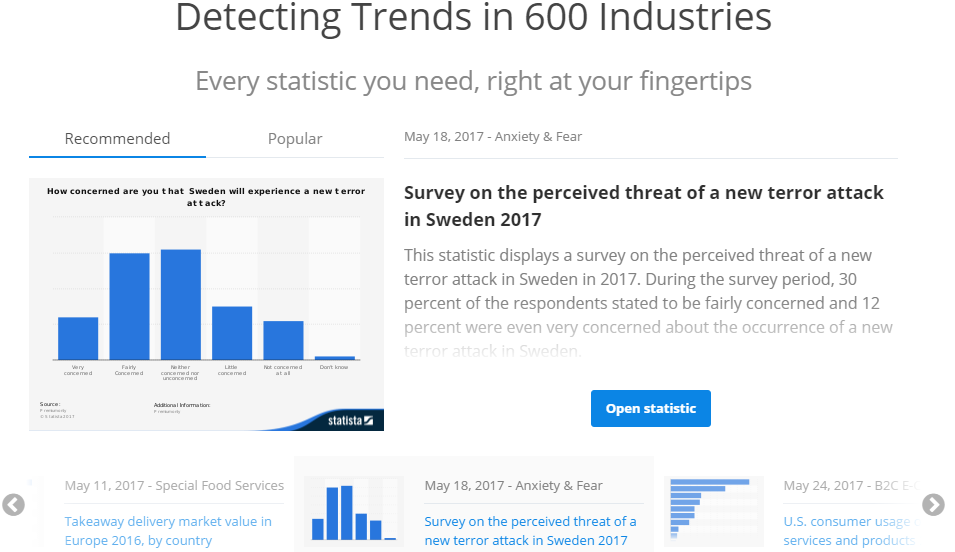 It is possible to get statistics data in 21 categories that are united by common features:
Consumer goods and FMCG (e.g. alcoholic beverages, cleaning products, food and nutrition, pets and animal supplies etc.);

The Internet (advertising and marketing, mobile internet and apps, demographics and use etc.);

Media and advertising (music, TV, video, advertising, games etc.);

Sports and recreation (art and culture, hobbies, sports and fitness, gambling etc.);

Technology and telecommunications (software, hardware, IT services etc.).
Except for statistics website, visitors can opt for other services including:
Studies and reports: understanding and assessment of industries;

Dossiers: receipt of the quantitative topic overview;

Market studies (digital market and consumer market outlook): analysis of the complete markets;

Toplists: identification of top companies in accordance with some characteristics;

Forecasts: making data-based predictions;

Surveys: insights of both current expert and consumers;

Infographics creation on specific topics.
It is quite simple to use a website. As soon as you sign up you choose a necessary category or service and types a keyword into the search engine line. In a matter of seconds, you receive a list of search results for you to choose a suitable one. If there are any difficulties, the home page of the website offers how-to video lessons for everyone to get access to interesting information. There are also FAQ for everyone who wishes to learn about the service. 

You can access any facts and statistics browsing the website or typing a keyword in the search engine. The latter provides a list of suggestions when you start typing the keyword. When you have completed the search, it is possible to make some specifications choosing parameters (e.g. date, category, region etc.).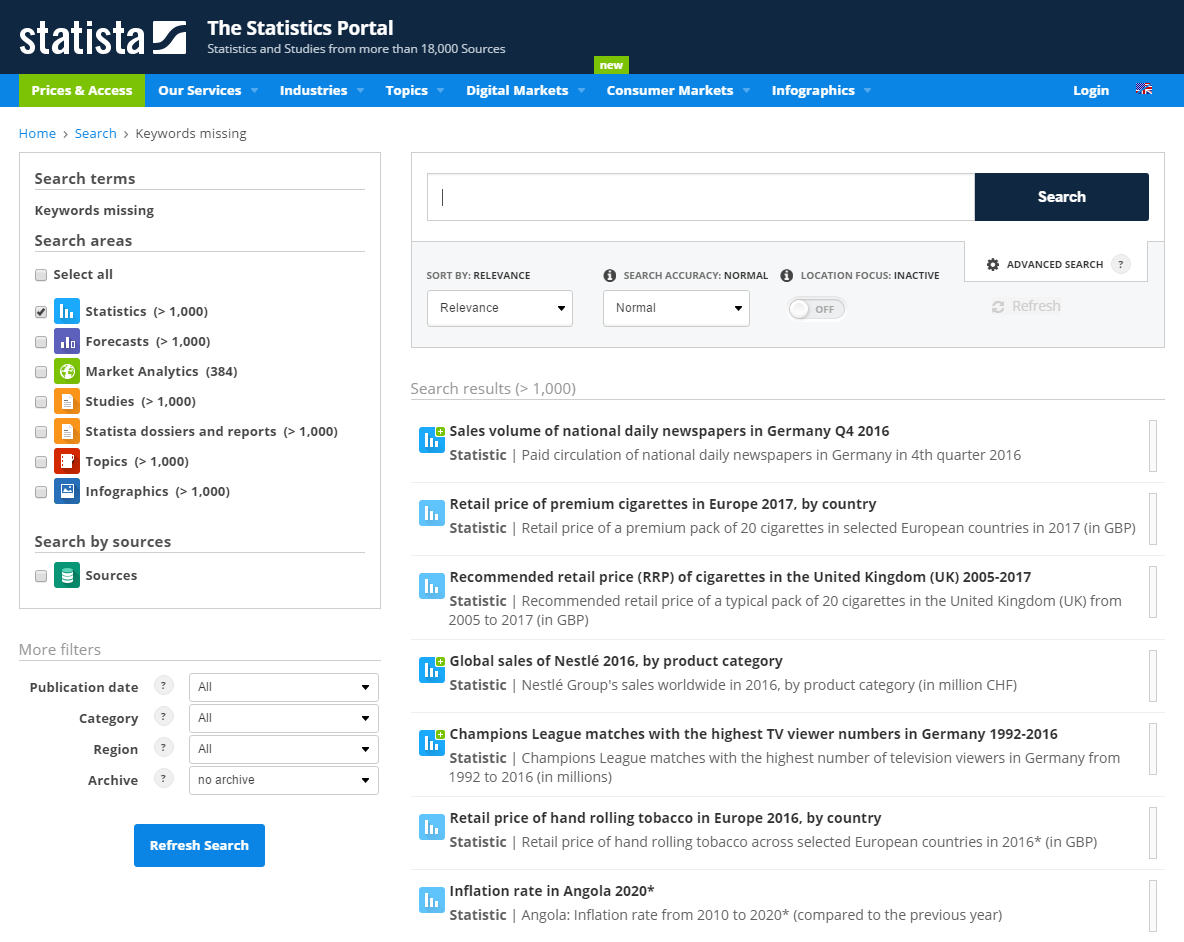 The search results can be sorted by date or relevance. You can also choose their number to be shown on the page.
When it comes to browsing, it can be performed in several ways. There is a direct access to the most popular data on the home page. You can also explore any of the categories and subtopics contained there. It is also possible to make a query limited to a single subject.
As soon as you have found data you are interested in, it is enough to click the heading and an animated graph or results will appear on the screen. You can choose a graphical format of results representation too.
There is also a bookmarking function available. In addition, you can share the statistics in any of the most popular social networks. Most data can be downloaded by paid users. 

You can't get any statistical data without registration on the website. After you sign up you receive access as a basic user to about 20% of all data contained on the portal. In general, there are three types of users differentiated by the service: single account, corporate users, and universities. Each of them has its own package of services and pricing policy.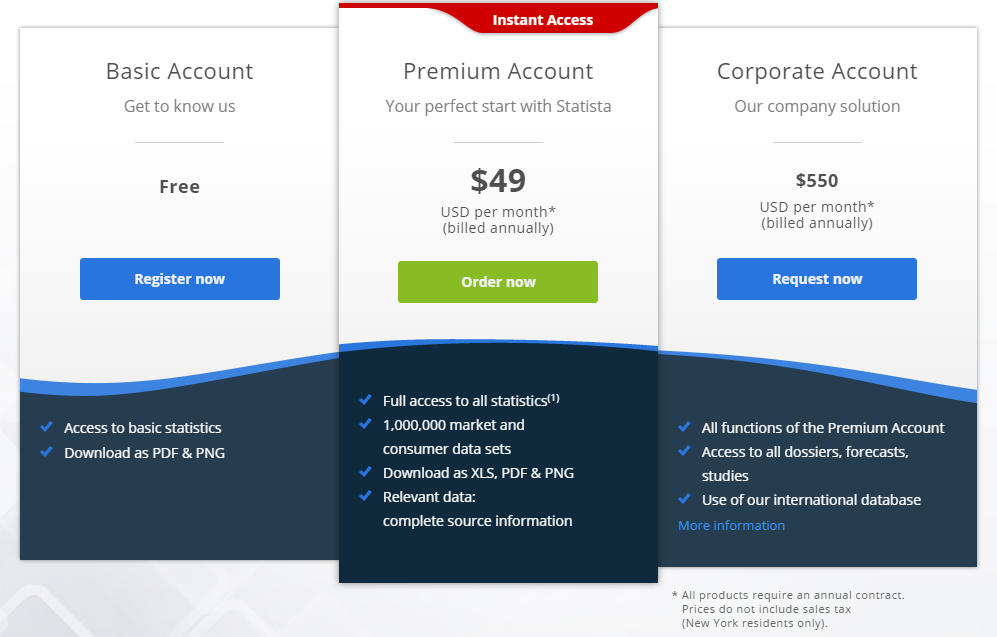 Single accounts can be basic and premium one.
A basic account is free and includes a restricted functionality such as:
Access to basic statistics;

Opportunity to download statistics data in two formats: doc and png.
A premium account costs $49 per month and guarantees an instant access to the website including the following functionality:
Full access to all statistics;

1 million market and consumer data sets;

Opportunity to download statistics data in several formats: doc, png, xls;

Only relevant data with a complete source information.
According to the website information, only 7% of all statistics data is accessible from basic accounts and 93% – from premium ones.
The corporate account costs $550 monthly and is a perfect company solution with the following functionality:
All the features of the premium account;

Access to any dossier, study, forecast;

Use of the portal's own database etc.
The version for universities is discussed personally with the support team. 

It is impossible to write the Statista review without mentioning its unrivaled benefits:
Accurate and the latest statistics and data.

Use of only credible resources for getting information.

Comfortable presentation of the search results.

Quick and productive search engine.

Support for 4 languages.

A variety of services for both individual users and corporate clients.

Possibility to refine your search according to offered features.

You can change the representation view of the results.

Time-savvy search of statistical data.

User-friendly and convenient interface.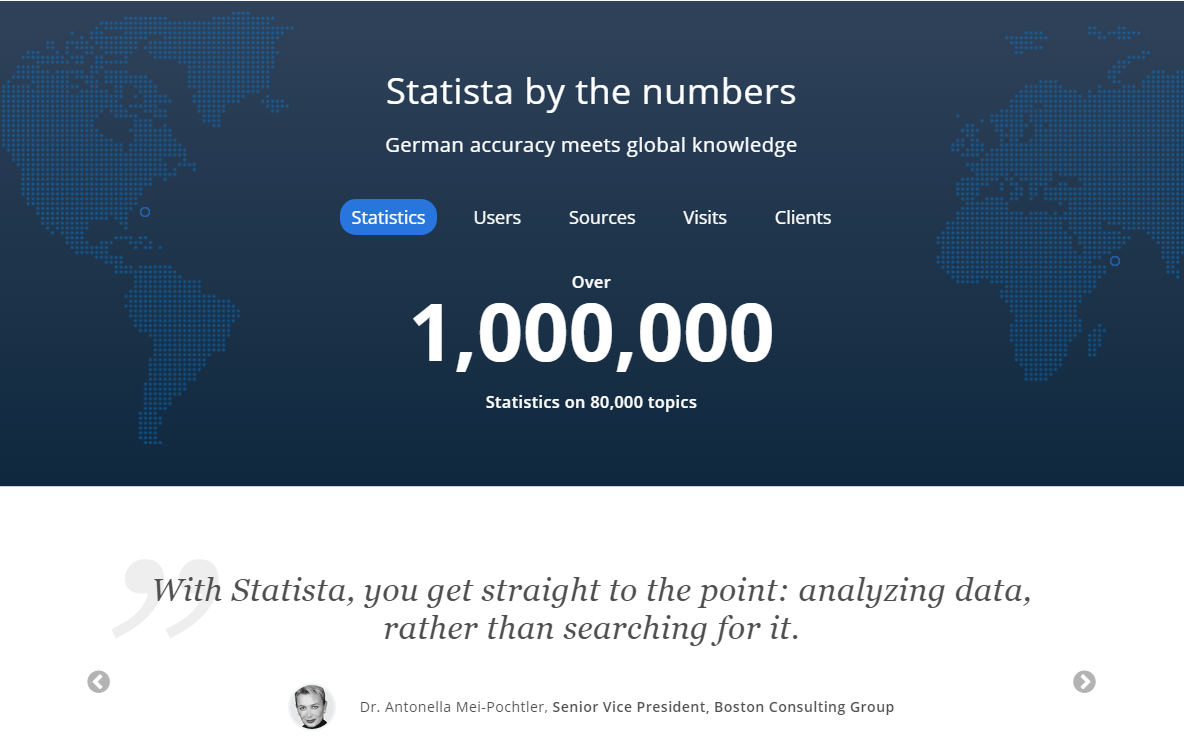 Unfortunately, there are a couple of drawbacks in this portal too:
A restricted number of statistics for basic accounts.

Inability to pay for premium or corporate accounts less than for the whole year.

Sometimes it is rather difficult to find a suitable keyword.
Statista is an important and reputable source of quantitative information. It can provide with necessary statistics and data both individuals and corporate clients any time of the day so you can learn about the changes that have happened around the world immediately. Such data is not only interesting bug also incredibly vital for businesses and companies that research the market. No wonder such renowned global leaders as Google, Tesla, Nestle and many others take advantage of the website to continue their growth.
Noplag is a leading writing education software that helps students throughout the world to master their writing skills and knowledge!
Catch Your Successful Sales Opportunities with Statista | Noplag Review