What is Saylor Academy?
Saylor Academy is the creation of Michael Saylor that appeared in 2008 and run by his foundation and offering free online college courses for students from any country of the world. Saylor staff work with professors to provides only high-quality and credible courses. Every course has a Saylor Academy exam that offers a non-credit certificate of completion and many courses have a special Saylor Academy exam that can connect to college credit through Saylor's partner universities.
There are over 100 courses in the academy. Students can take any course and earn a certificate of completion for free. Moreover, you even do not need to register to see if learning online fits you. That is why learning process in this academy is simple and fast.

In general, the academy offers courses aimed at:
Career advancement;
Low-cost degree completion;
Tuition-free credit earning;
Obtaining digital certificates etc.
Saylor Academy features
Saylor Academy offers an open college courses collection that can be accessed anytime and from anywhere. Students learn online or with the help of mobile applications for iPhone and iPad.
The academy aims at students who are already of the college age as most of the courses you need to learn require much reading. That means that only a committed student will be able to complete the course and receive a certificate upon its completion.
Thirty-one courses on the website have been recommended for credit by the American Council on Education (ACE) or by the National College Credit Recommendation Service (NCCRS). Students can learn at their own pace and be never forced to study. Saylor is another informative MOOC website that offers numerous courses in the following disciplines: Art, Biology, History, Computer Science, Economics, Psychology, Social Studies, Literature, Languages, Business, Biology etc.
The website also offers certificate programs based on general education, business admin, customer service and computer science curriculum. Students can obtain 91 tuition-free college credits in 31 courses and save money.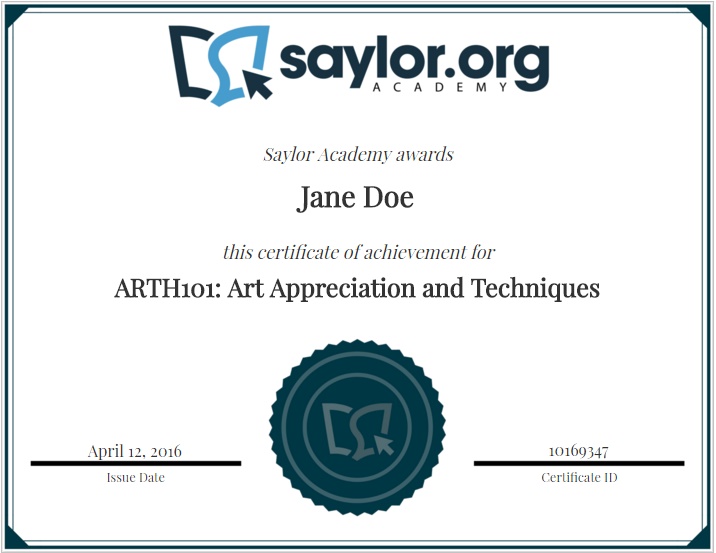 How does Saylor work?
To start learning one should go to Saylor website and go through three simple steps:
Account creation by filling the new account form and activating it.
Course adding by clicking on "Enroll me in this course" after you find an interesting one in the catalog.
Start learning.
For people, who can not work online intuitively, there is a Saylor001 course teaching to navigate the academy without putting much effort.
Let'see how a course looks like. As many people are interested in mastering English we have analyzed this course as an example. The course in English consists of 5 topics:
Pre-college English for students to improve writing skills.
English Composition I focused on the development of the ability to write clearly, persuasively and without grammatical mistakes.
English Composition II centered on basic research paper writing.
Technical writing.
The American Renaissance course in literature.
Let's analyze the first topic in brief. Pre-college English consists of 5 units (Active Reading, Combining Ideas, Making Inferences, Transitions and Summarization and Introductions and Conclusions), study guides, exercises and a final exam.
Getting a degree using Saylor
Despite the fact that MOOC websites have not been given yet a right to offer students degrees on the completion of the courses, but Saylor has a made one step forward in comparison with other companies. Being a non-accredited educational website it still has some pleasant news for its learners. Saylor Academy's 31 credit recommended courses can fit into many degree pathways at partner universities such as Thomas Edison State University, Excelsior College, Colorado Technical University, and about two dozen others. Two example degree pathways show how Saylor's courses can lead to two yearand four year degrees. The first, with US partner City Vision University and UK partner Qualifi, allows students to take Saylor Academy courses, earn endorsements and a certificate through Qualifi, and then transfer their work to CVU to complete their degree. The second, with partner Thomas Edison State University, allows students to combine Saylor Academy credit courses and TESU exams and portfolio assessments to earn a two-year degree at TESU.

Saylor benefits
Saylor has been used by millions of users so its benefits can be hardly questioned. Users state the following benefits of Saylor Academy online:
All courses and certificates are free of charge;
A big number of courses;
College-like courses that can save money for tuition;
Ability to learn at your own pace any time and anywhere;
Flexibility without set deadlines.
Saylor drawbacks
Unfortunately, in comparison with other MOOC websites Saylor Academy has a number of negative feedbacks that mention the following downsides:
Difficulty in site navigating;
Ignoring comments about errors or negative reviews;
Too sizable material to read;
Abundance of additional information not significant for test preparation;
Lack of references to the material sources to check its credibility.
Conclusion
The greatest benefit of Saylor is a completely free access to multiple college resources. There is hardly any other online educational platform that offers students to receive degrees studying through the Web and independently. At the same time, Saylor lacks all those features that characterize other MOOC websites so any enhancements are welcomed.
Noplag is a leading writing education software that helps students throughout the world to master their writing skills and knowledge!
Saylor Academy – Free Online Courses | Noplag Review