W

hat is Basecamp?
Basecamp is collaborative software as well as a project management web application. It was developed in 2004 by Basecamp company and became the basis for a Ruby on Rails framework.
This is one of project management tools that is helpful for companies that suffer from miscommunication, missed deadlines, lack of organization etc. It was initially meant as a means to manage projects in small companies that consist of 3-4 people. Each following year the company has been adding new functional opportunities and today it is one of the most popular project management tools in the IT market.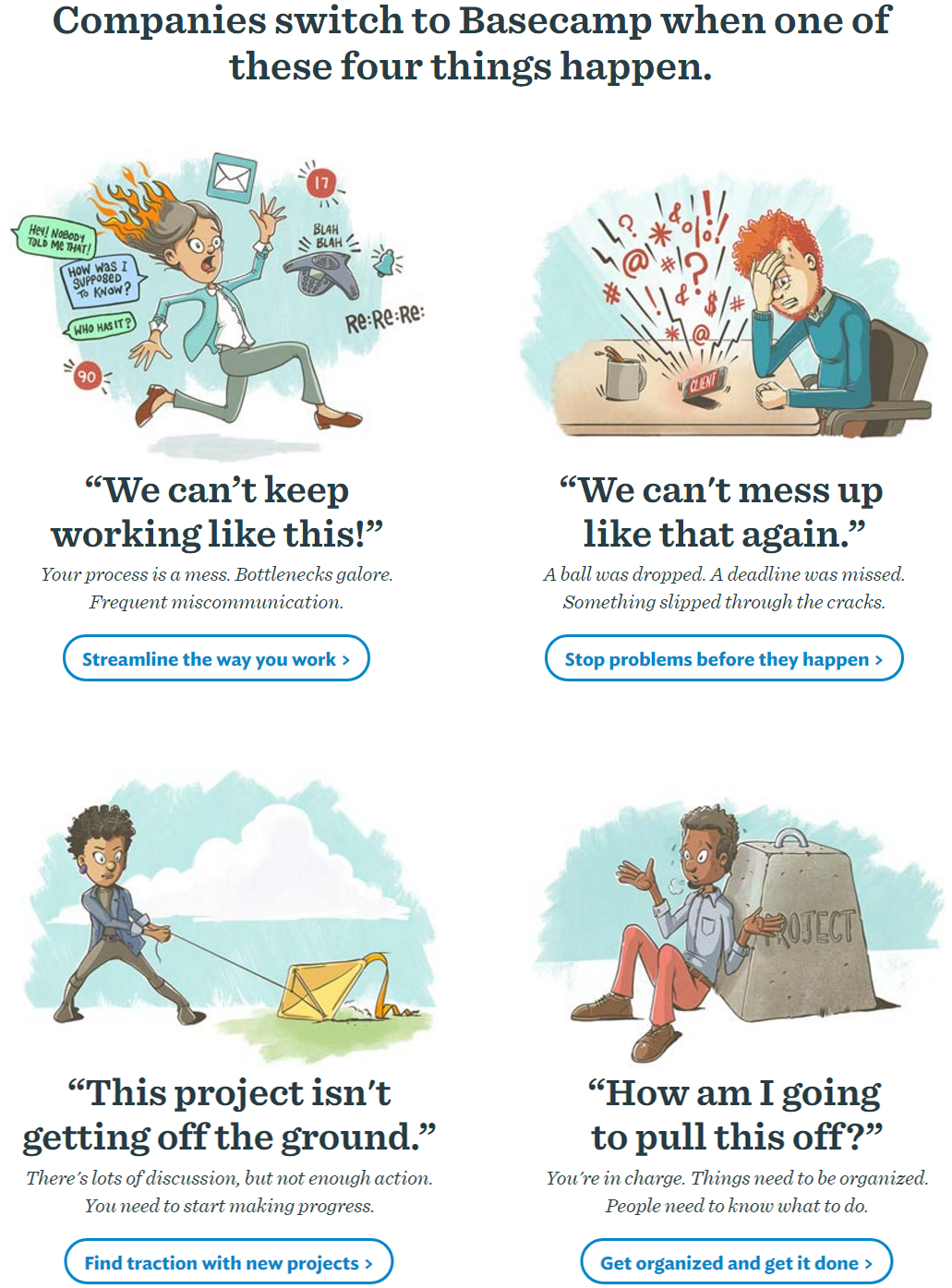 Basecamp is compatible with many applications, widgets, and other software. On the official website, you can find numerous paid and free additions including mobile apps, graphs, planning modules, accounting systems, software development tools etc. The tool also has an API, so users can create additions to it themselves.
The interface supports many languages including English, Spanish, German, French, Polish, Japanese etc. It is a cross-platform program available on the web, iOS, Android, Mac, and PC, so project and time management is quite comfortable.
In 2017 Basecamp can boast 2.5 million of signed up accounts.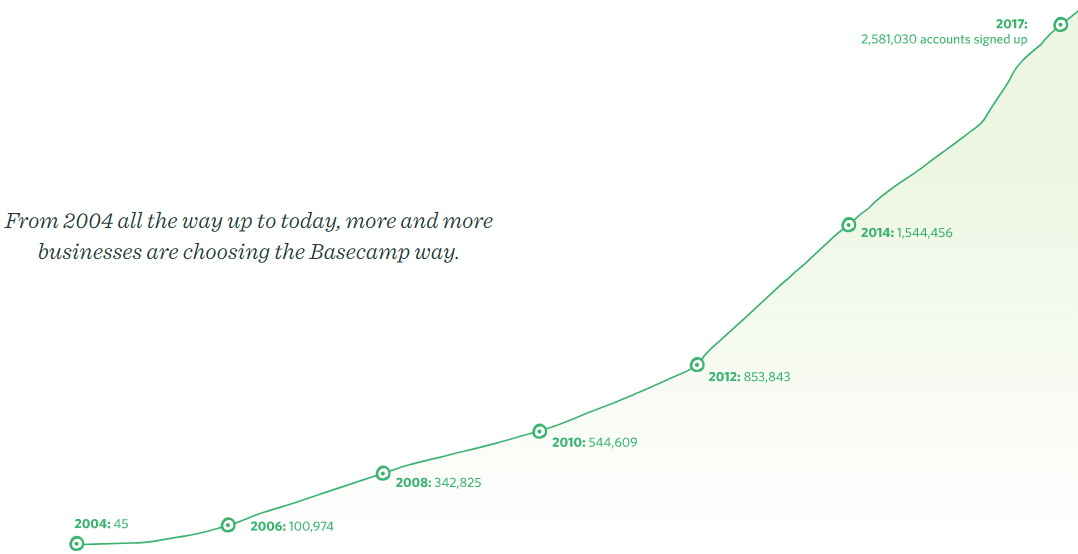 The most popular Basecamp alternatives are Zenkit and Trello.

The main objective of Basecamp is to organize projects, internal communication and work with customers in one place.
The Basecamp Home screen is rather comfortable as you are able to see everything on one screen without scrolling. The top of the page is dedicated to HQ to provide communication among the staff of your company. The middle part is for all the teams you have created. Here groups of people can collaborate, communicate and work on the same project together. The bottom line was created for viewing projects and managing them.
When you create a project and open it you can see 5 boxes:
Campfire box is a simple chat where you can ask questions and receive answers from different people, make announcements or discuss any topic. There is a file attachment function, quoting, possibility to add sounds, video, and emoji.

Message board is for sending messages to team members and looking through the history of communication. There is a separate page for each new topic. You can add images and files directly into messages and organize deeper discussions through conversation threads.

To-Dos offers you to create tasks and assign people to do them. You can also set due dates and date ranges, prioritize some tasks if necessary, add notes, details or attachments, sort by date etc.

Schedule was created for setting and controlling deadlines and progress of each project. You can attach people to events as well as files, discuss these events and subscribe to individual events.

Docs & Files contains any assets, files, images you require for the project completion. You can also link up Google Docs there, drag and drop docs to organize them in folders, color files, add comments and see the history of changes.

Basecamp has a lot of useful features for project management and collaboration:
There is an automatic check-in in Basecamp functionality so you can get regular notifications about the accomplishments of your team members. You can set up the frequency of such messages and be always informed about your team.

Pings are instant messages directly to one person for one-to-one discussions, sending files. It is also possible to kick ideas in the small circle of people before you will present it to the whole staff.

Hey! notifications make it clear what happens in your company. It can be adjusted with the help of Work Can Wait schedule to receive notifications only when you wish.

Simplicity of staff finding. You can search by keyword, person, build queries, pings etc. There is also a designed image search too.

Reports contain summaries of all the key activities: completed projects, in progress ones, added files, delays etc., everything that happens within your company will be shown there as well as a current status of all the assigned tasks.

Another great feature is Rework fan mail. That means that all the emails are forwarded directly into the Basecamp for every user to be able to see them. There is an option of private commenting and immediate reply too.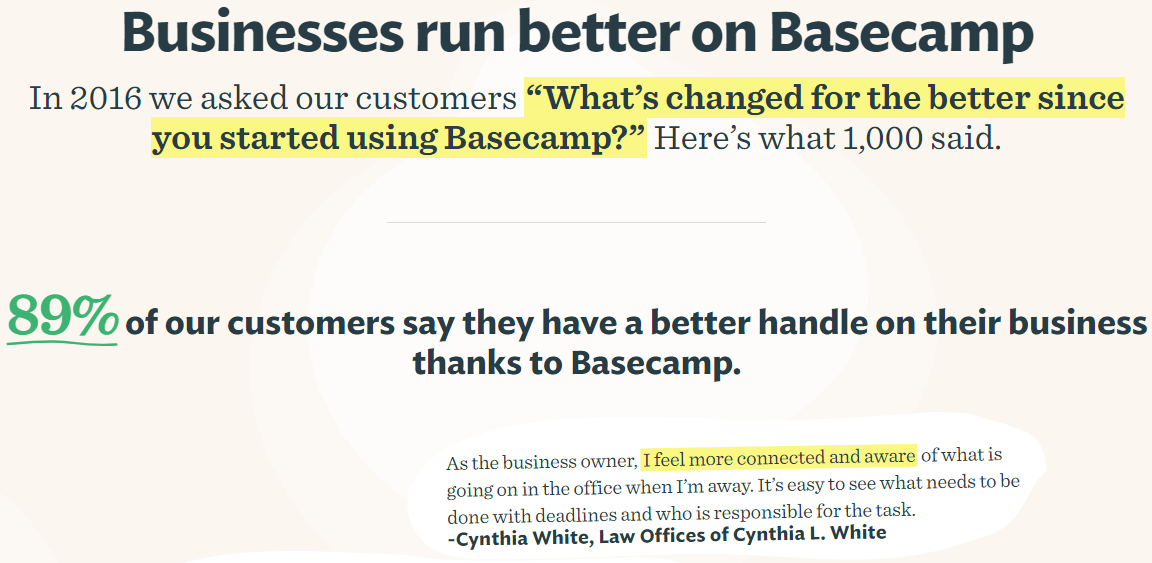 The other useful features of Basecamp are:
Organization of events;

Project templates;

Employee profiles;

Productivity, time, task reports;

Archiving;

Activity dashboard etc.

According to the Basecamp website it is one of the best investments for business running. There is no free version of the application apart from teachers and students, who can use it free of charge and people, who have registered before 2012 and are regular users of the tool, but you can check Basecamp functionality and ensure its suitability ordering a 30-day trial available for everyone. You will be asked for a credit card only when you decide if Basecamp suits your company. If 30 days are not enough to evaluate the tool, you can ask to extend your trial turning to support.
Basecamp cost is comparatively not expensive if to compare it with another similar software.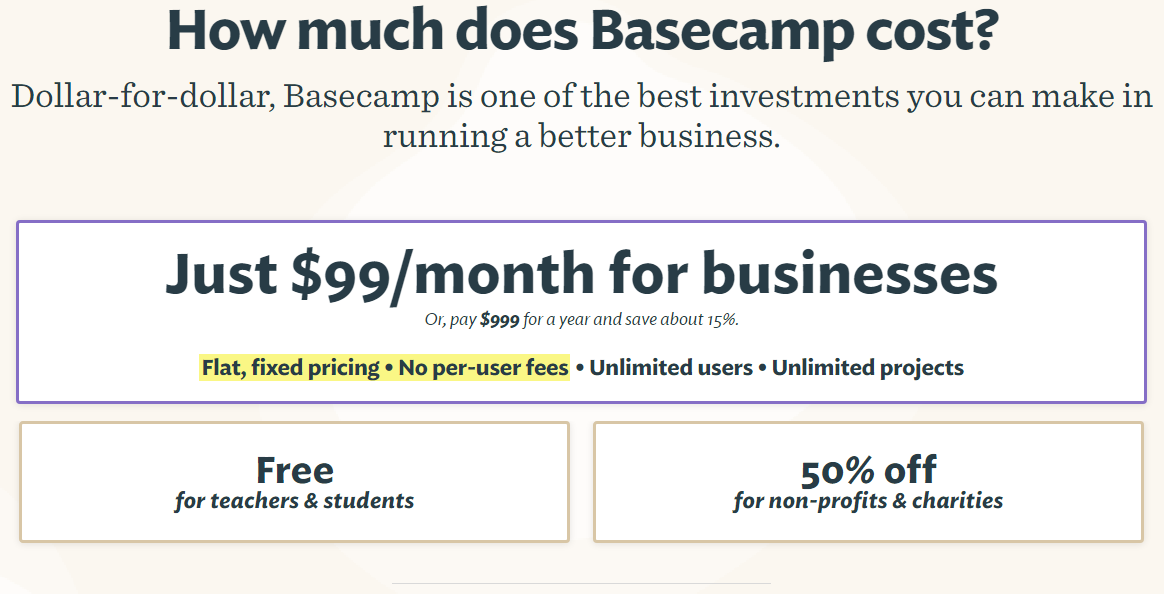 Businesses have to pay $99 per each month or pay $1,000 for the whole year and get a 15% discount. This price is fixed and there are no fees per each user separately. You receive both unlimited projects and users.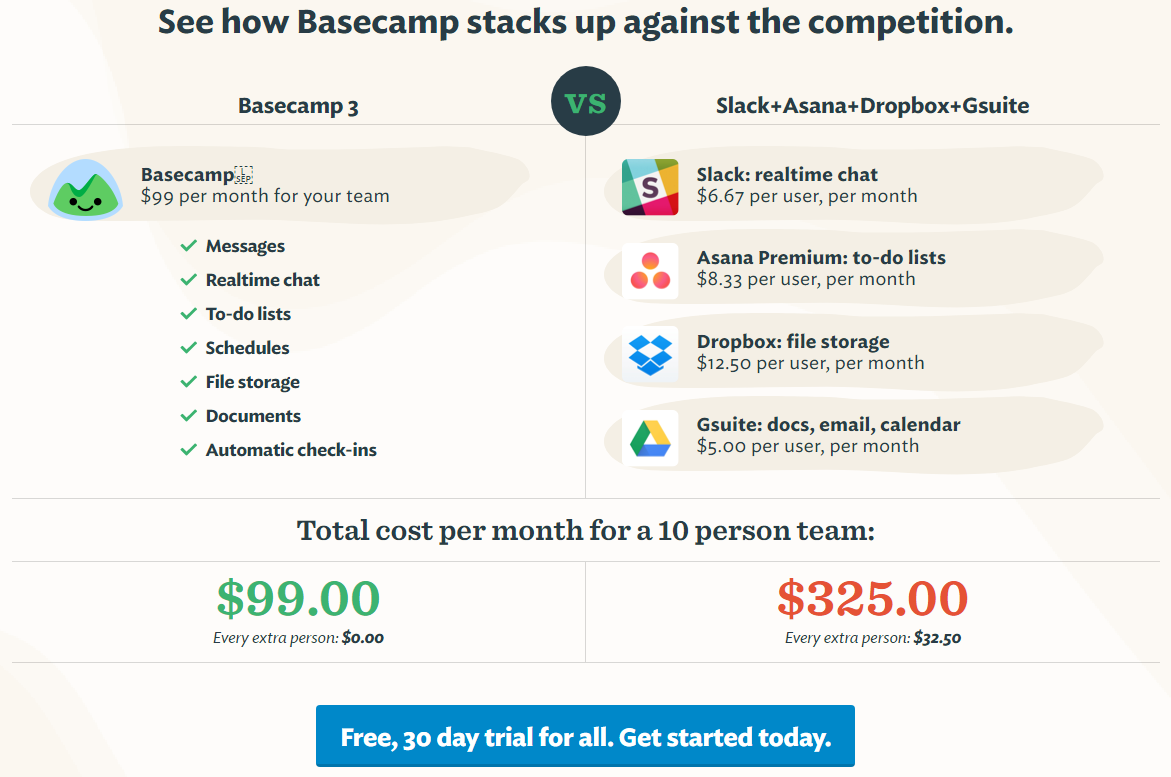 There is a pleasant 50% off for non-profit organizations and charities.

What do businesses get when they use Basecamp? Almost every Basecamp review mentions at least one of its benefits, which we have gathered into the following list:
Being connected with many people.

Companies get more organized.

Clear and simple accountability.

Accessibility of information anytime as it is located in one place.

Higher productivity.

Possibility to work all around the globe without thinking about the difference in time zones.

More transparency.

Shared responsibility.

Many integrations and additional tools

Ease of use, comprehensibility.

The unlimited number of users.

Support of many languages.

Basecamp app is cross-platform.

Reasonable pricing.

Undoubtedly, there is no perfect software. Every user pays attention to the functionality and features necessary personally for him and that helps to find out what can be changed or improved in the app. Let's see what drawbacks users mention in Basecamp reviews:
No free version.

Lack of advanced project management features.

Too small font if to read information on the tiles.

Annoying Pings and e-mail messages.

Not scalable.

The absence of analytics.

The requirement of additional services to connect popular third-party apps.

No support for milestones.

Some problems with a search function.

Lack of communication feature for more efficient collaboration.
Basecamp is a very popular project management tool among businesses. It suits both small companies and large enterprises as the functionality is rather wide. It is difficult to state if there are any other tools better than Basecamp as there is often some difference among them. But you can be confident that use of this app will greatly contribute to the effectiveness of your workflow and missed deadlines and unawareness will never be excuses for your employees.
Noplag is a leading writing education software that helps students throughout the world to master their writing skills and knowledge!
Noplag Reviews Basecamp: Is It a Unique Project Management Software Every Team Needs?