W

hat is Zenkit?
Being one of the best collaboration project management tools Zenkit has surpassed several of its competitors. Many users consider Zenkit a perfect alternative to a well-known Trello and there are many reasons for this. In general, Zenkit is used by users who wish to manage data within the entire project lifecycle. It is also an online workspace that is used for organizing business, ideas, and tasks. It provides users with collaboration, issue tracking, customization, and management functions, so the workflow is much more productive and comfortable.
Zenkit was released in 2016 by a German developer Martin Welker and his team. This is a product of famous private German company Axonic Informationssysteme GmbH. The company deals with modern technology and develops various software in the fields of both artificial and communication intelligence, an information extracting etc.
Zenkit can be used by teams of any size. It offers a wide range of functions that can be easily customized. There are many integrations available, and despite the fact that the product is German, it supports English too.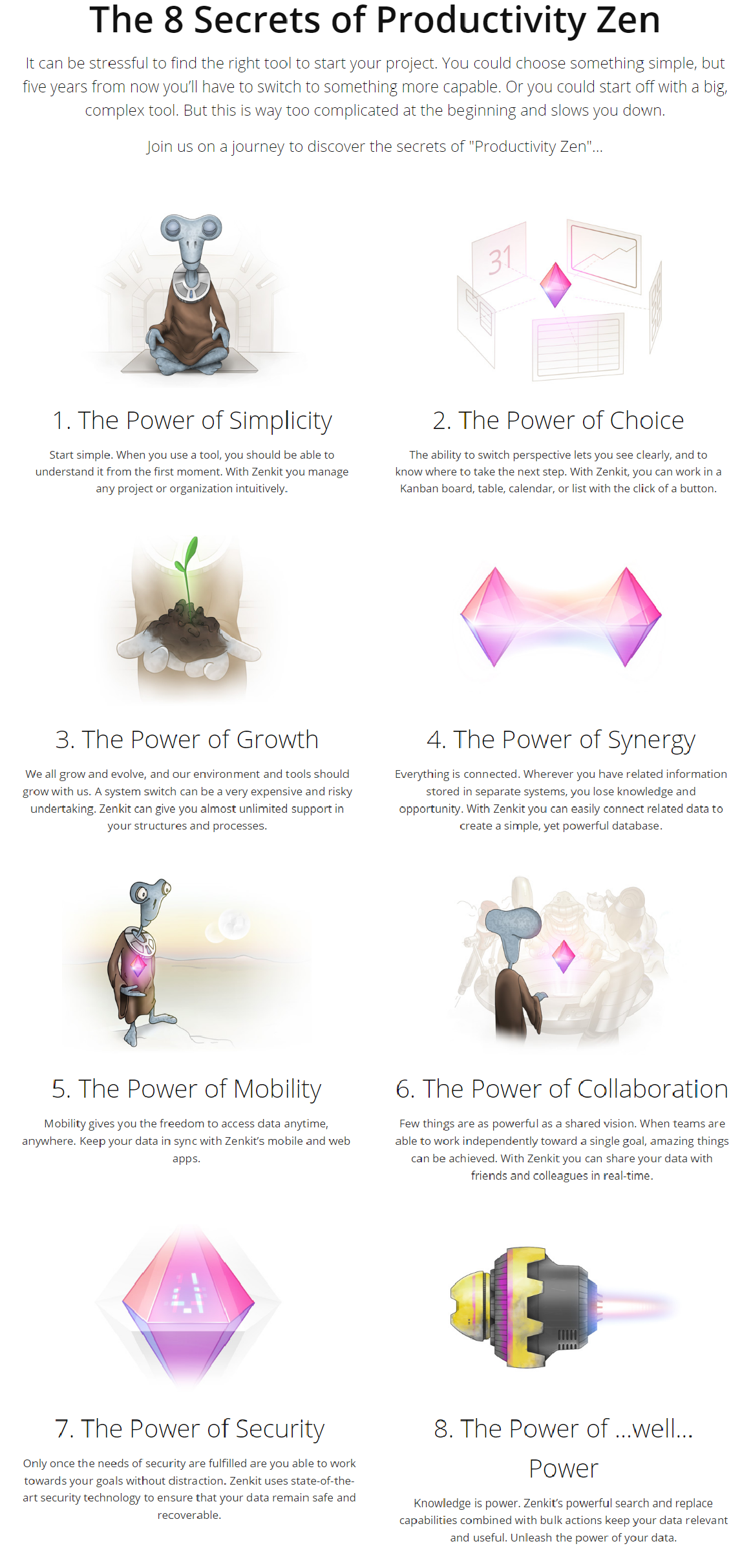 Zenkit surpasses other project management tools as its functionality includes all the necessary features for comfortable workflow and cooperation. The list of features is the following:
Numerous views to every user's taste such as:
To-do-lists that allow break tasks into smaller ones and make priorities.

Kanban is the best for progress tracking, assessment, and management through drag-dropping opportunity.

Tables are suitable for organizing and aggregating custom fields and dealing with formulas.

The calendar allows seeing the task progress and the deadline for it to be submitted.

Mind Map helps to organize ideas and make connections between them.

Analytics is useful for getting a quantitative insight into your business and task performance.
Social collaboration platform;

Custom notifications within the tool and by e-mail;

Task management functions are also quite various including:
Stakeholders assigning.

Assigning group tasks.

Setting priorities.

Looking through the task history.

Creation of a to-do-list.
Reports are shown on the dashboard;

There are instructional videos for learning and support;

Various integrations;

Data import and export;

Professional API;

Possibility to use synergies etc.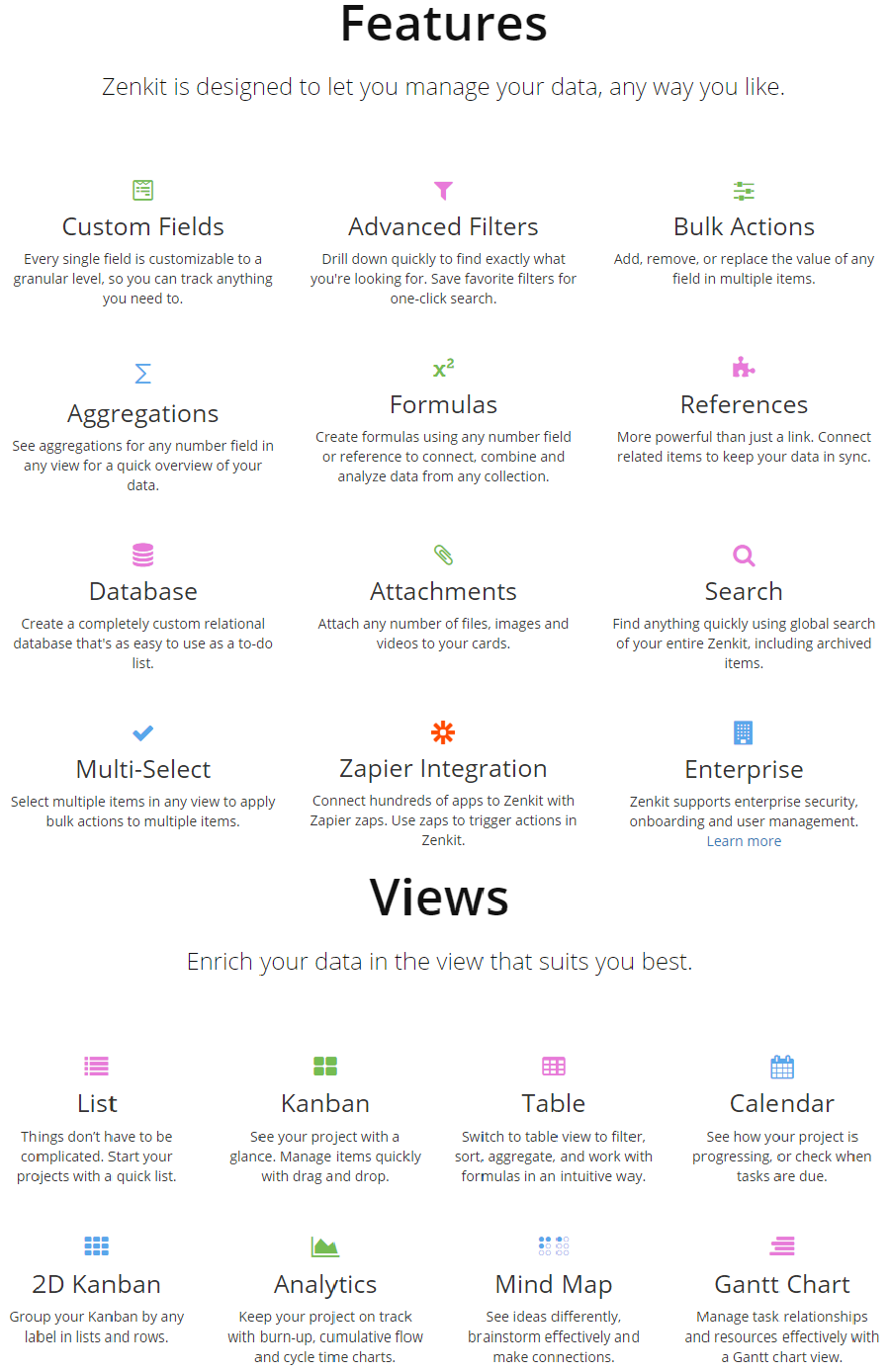 Zenkit task manager has united dozens of different software in it. It doesn't matter if you need ideas brainstorming, task listing, workflow organizing or scheduling Zenkit can do any of these tasks.
When you open a dashboard you can create a task using different views. For example, you may brainstorm some of your ideas in the mind map. Then it is time to schedule it on the calendar or start the workflow using kanban board. The results can be checked through the to-do-list without any difficulties.
Each task is very simple to track as it includes a due date it must be submitted to, its present state (in progress, done etc.), the importance tag, the average time estimation, a short description etc. There are also customizable features of every task so you can also add other details like dates, texts, comments etc.
If you have difficulty in task finding opt for Filter function that will customize the fields in accordance with your preferences.

There are four basic packages of Zenkit task planner for its users:
A Personal package is absolutely free of charge. It includes unlimited collection with 2,000 items per each one, 1Gb of attachment space and you can share the tool with up to 5 team members.

Plus package costs $9 per every user and month. It includes all the features of the personal package but more extended: 5,000 items per each collection, 5Gb of attachment space, sharing with up to 20 team members, customizing features and one of the earliest accesses to the newest functions.

Business package is meant for large teams and costs $29 per each user and month. Its features are even wider including 100,000 items per each collection, 20Gb of attachment space, unlimited members number and prioritized support in addition to the features of the Plus package.

Enterprise package cost is discussed with each enterprise separately but the list of features is quite impressive: custom volume and API limits, dedicated success and advanced identification management. On-premise installation is paid additionally.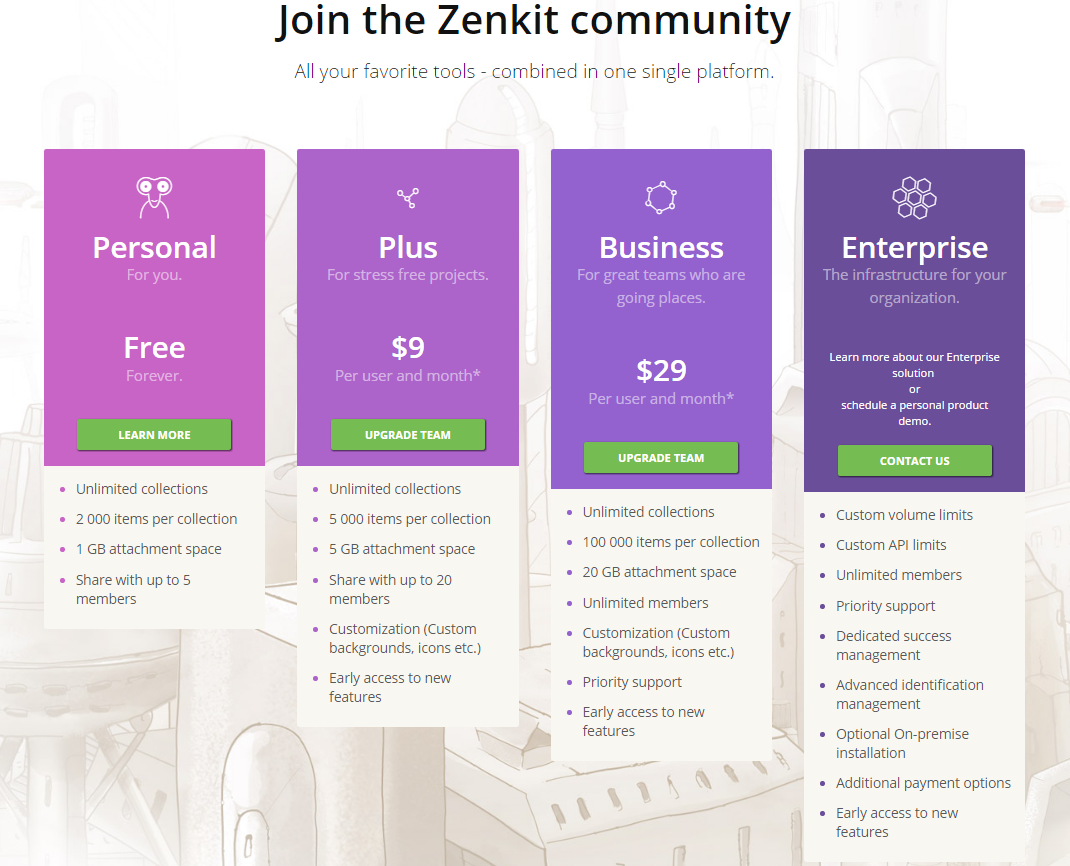 Some positive features of the tool are mentioned almost in each Zenkit review. as the list of benefits is rather impressive we decided to divide it into two parts: the first ones are mentioned on the official website and the second part will be taken from the personal users' reviews of the software.
Zenkit creators have focused on the following benefits of Zenkit:
Simplicity. There are no problems with starting using Zenkit as everything is quite comprehensible. It is possible to avoid any tutorials as any task can be assigned intuitively.

Wide choice of tools. Various views provide with the opportunity to choose what you prefer.

Constant growth. The system does not stand in one place and is in constant development so there won't be any desire to switch to another tool as the creators keep up with the latest trends too.

Synergy. All the items are closely connected to each other. You can create your own database connecting related data.

Mobility. The tool is accessible from anywhere and anytime. There are both the web and mobile versions.

Collaboration. Each member of the team can work independently to achieve one shared goal.

Security. The tool uses the security system that can be characterized as state-of-the-art for any data to be recoverable and safe.

The power of knowledge. Zenkit powerful features guarantee the relevance and usefulness of your data.
As Zenkit is a relatively new product in the market of project management tools the number of reviews is not so big. But all the same there are some positive key features  mentioned by the users:
Agile features useful both for people dealing with software and ordinary users.

File management with the opportunity to store all the docs in one place.

User-friendly interface that is understood almost immediately.

More possibilities in comparison with other similar tools.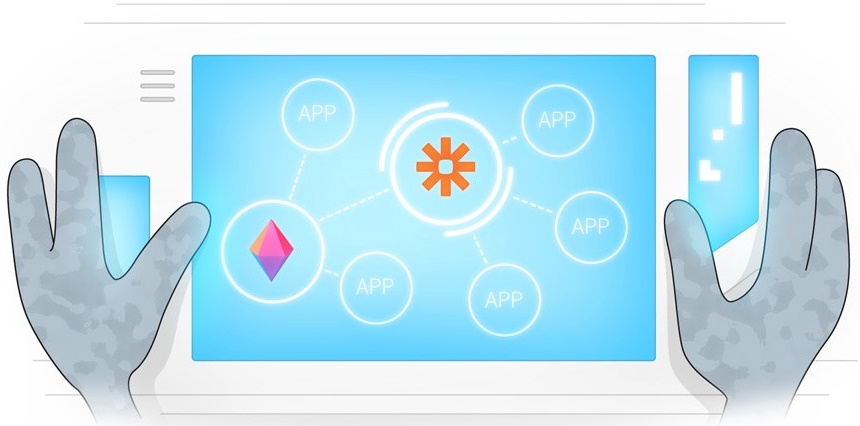 Zenkit has got many benefits that outweigh several drawbacks mentioned by its users. Though it may seem that the tool is perfect, there are viewpoints that some of the following points require improvement:
Reporting is rather limited so additional software is required.

It is impossible to manage the backlog of the developed product.

The absence of Gantt charts, though they are promised to be added soon.

No chance to recover accidentally deleted files.
The list of both benefits and drawbacks will get longer when Zenkit becomes popular in masses. Today it is still a new product, the main competitor of which is Trello. In accordance with many viewpoints, Zenkit offers more features and is more comfortable to use if compare with Trello, for example. It is also wonderful that you can try the tool free of charge to realize if it suits your team and assigned to them tasks. As soon as users appreciate all the Zenkit functionality the tool will become incredibly popular and demanded.
Noplag is a leading writing education software that helps students throughout the world to master their writing skills and knowledge!
Dive Into a Higher Productivity With Zenkit | Noplag Review