W

hat is Diigo?
2005 was a year when a social bookmarking, research and web annotation tool Diigo that stands for 'Digest of Internet Information, Groups, and Other stuff' was launched. It is a rather popular tool that is used by over 9 million people. The tool is used for different purposes as its functionality can be useful in education, business, and many other spheres.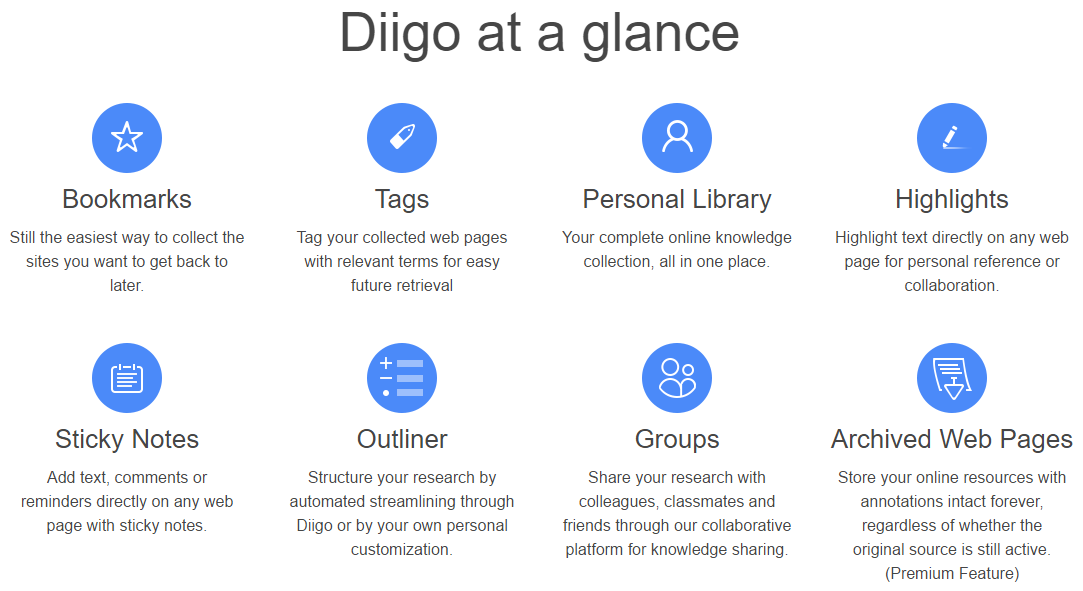 Launched initially as a bookmarking tool the annotation and highlighting features were added later. Today it is one of not numerous annotation tools that works with the whole web. It is mainly used for personal knowledge management and there are such additional functions as making screenshots, collaboration, page caching etc.

In 2016, the latest and most powerful version Diigo 7.0 was released. Since the development company decided to refocus the tool on the annotation function again, the last version is a real breakthrough that offers even more. Previously, Diigo could be used only by users, who have installed its software on the PC. A new updated version offers to annotate directly on the web page of the tool. It has also received a better user-friendly interface that is simpler and easier to use.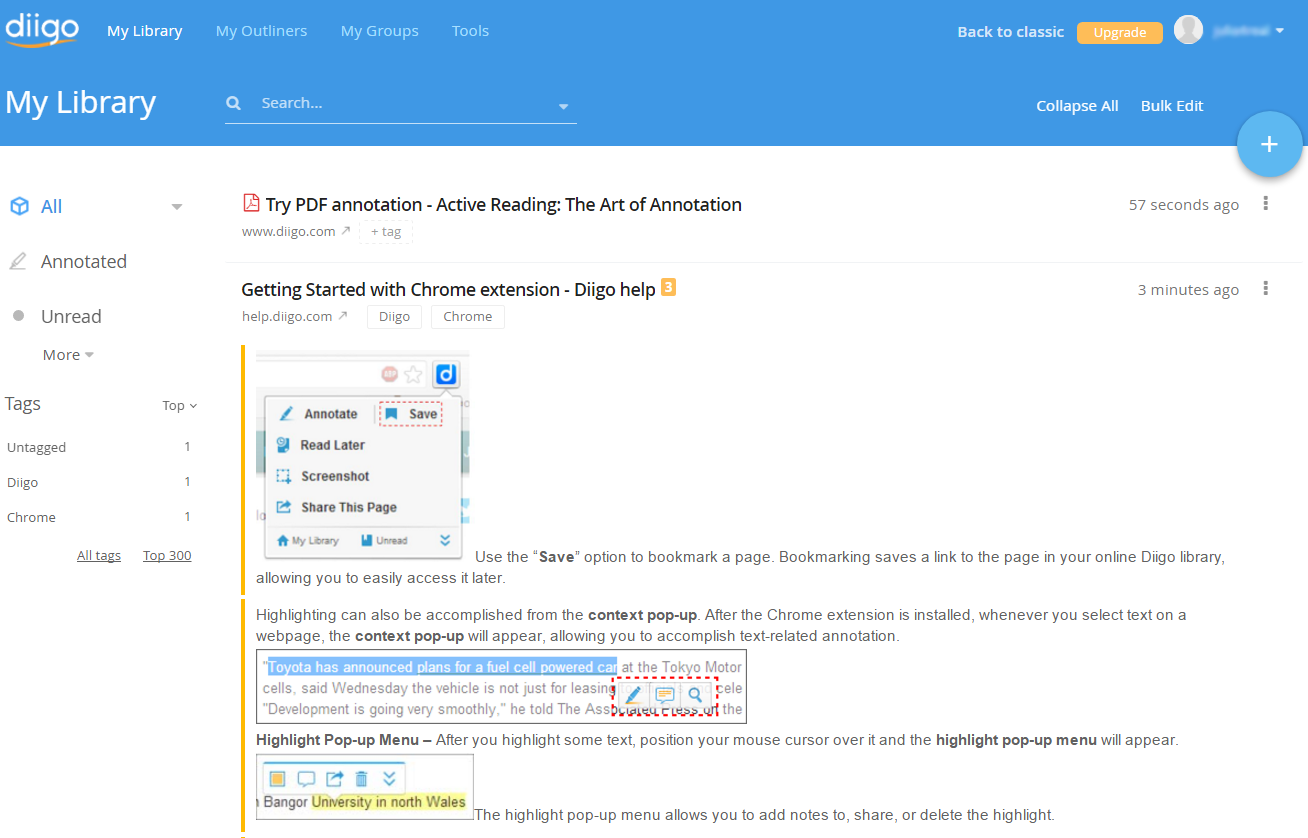 Diigo was created with the purpose to help readers go from small pieces of information to a coherent structured knowledge. The previous version has received Outliner function that could present information in the form of knowledge trees and show images. The modern version also suggests a split view both of my library and outliners. It is much easier to drag-and-drop pieces of the text from one side or view to the another one.
Similar to Grammarly for Chrome there is also a new Diigo Chrome extension released recently with several unique features:
Simplified menu;

Annotation in the free of ads reader;

Possibility to annotate PDF files in Chrome;

Receipt of support through the built-in feature "Send message" etc.
Using Diigo one will undoubtedly like the following functions: improved text search for bookmarked pages, possibility to work in large teams and follow the workflow, making highlights right on the Web pages etc. If you opt for the latter feature or add a sticky note on the page they will be shown automatically each time you visit it. Looking at the Diigo extension icon you may see two dots:
A red one indicates that you are on the bookmarked page now.

A yellow one or several of them located near the scroll bar will take you to the annotations.
Integration with Google search makes it incredibly easy to find saved in Diigo pages as they will be found automatically by the search engine.
Diigo is available for the main mobile platforms today as well.

Though today the tool returns mainly to annotation function there are multiple features that will come in handy for every user as well. Diigo has the following features:
Collecting information and data. It can be saved on your device and accessed anytime.

Annotating web pages and PDA files directly in the browser.

Organizing your content or its pieces through Outliner function.

Sharing your achievements with others.

Bookmarking of the websites you wish to return to later.

Tagging websites with terms for simple retrieval.

Creation of the personal library.

Text highlighting right on the web pages.

Placing sticky notes with comments, reminders or headlines.

Collaborating with your team members.

There are four basic pricing plans offered by Diigo team:
Free of charge. You can use Diigo but you will be restricted by 500 bookmarks and 100 highlights as well as see the advertisement.

Standard plan costs $40 per year. It includes:
Ads absence;

Unlimited bookmarks, highlights, image storage and cached pages.
Professional plan costs $59 per year. It includes all the benefits of the standard plan and the following ones:
Unlimited PDF storage and Outliners;
Business plan costs $10 per month per each user and includes all the benefits of the professional plan. In addition, you are also offered:
Unlimited team library storage for different files;

Collaborative web and PDA annotation by the team;

Administrator console dashboard.
The last plan can be tried for free to ensure its effectiveness.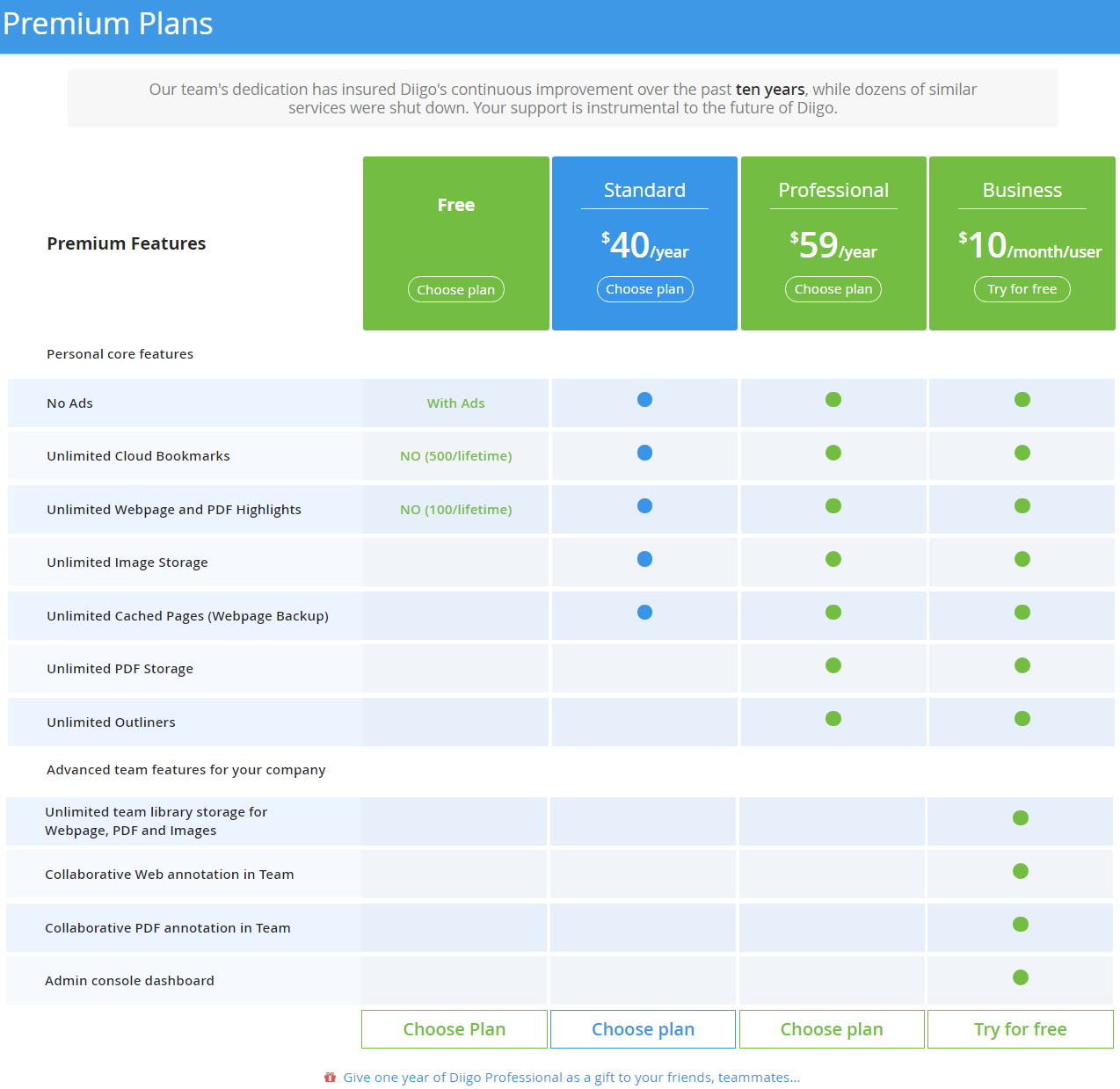 Annotation feature has not been appreciated by its users originally, so many similar to Diigo tools have stopped their existence. Fortunately, Diigo has survived thanks to other features it offers to its users so the main competitors of the tool today are companies that suggest similar features.
Both Pocket and Instapaper allow their users read the page later. Evernote lets catching pieces of text and saving them in the digital notebook, while Diigo makes that in the cache. Delicious offers bookmarking and tagging features but not other ones characteristic of Diigo. In any case, there is no similar tool with the same functionality that it has.

It is almost impossible to find negative feedbacks about Diigo. In most cases, each Diigo review mentions several benefits and only some of the users have found minor drawbacks of the tool.
Let's see what is appreciated by users in Diigo most of all:
It is a great research tool for personal use with an opportunity to highlight, add sticky notes or bookmark web pages that are saved on the Diigo server and can be accessed anytime.

Encouragement of collaboration with the possibility to share files, create groups, discuss topics etc.

A big knowledge-sharing community of users has created a variety of annotations and comments in different topics so you can learn one's viewpoint or get their insights about anything. It inspires people to express their interests and connects individuals in accordance with them.

A useful tool in education that allows teachers highlight some points within the text, discuss issues with students, upload files with assignments etc.

Possibility to customize the tool to your expectations.

Simplified search.

Custom support with many how-to videos and FAQ questions.

Regular updates and improvements of the tool.

The presence of the free version.

Diigo app

for mobile devices is as functional as a web version.

Paid versions make the experience more engaging and productive.

User-friendly interface that can be understood intuitively.

Naturally, though the tool functionality is rather vast, some users still claim in its extension or some bugs that make the experience not so pleasant. These are some of the so-called drawbacks:
Inability to teach distinguishing credible resources from not ones.

The necessity to be logged in to be able to work with the tool.

Sometimes changes to the document are not saved.

A restricted number of highlights and annotations in the free version.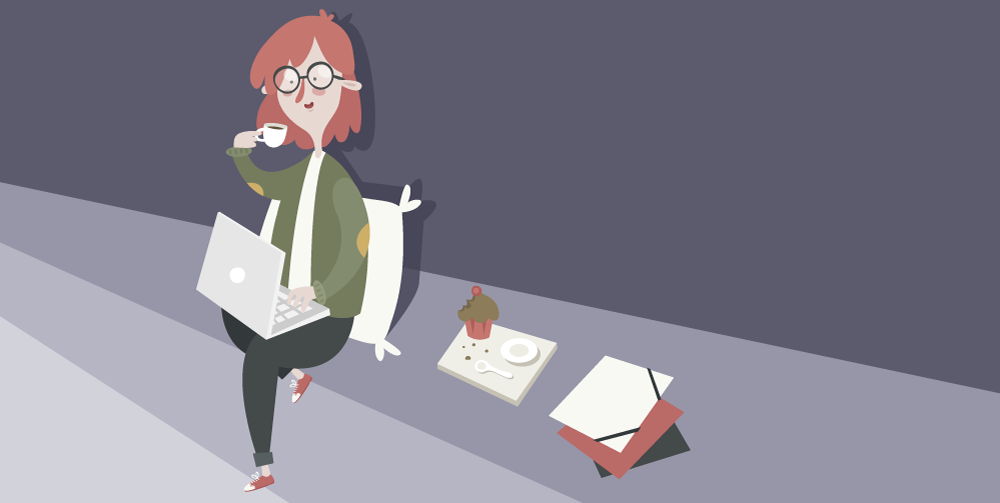 Diigo is a useful tool for everyone, who makes online researches, likes leaving comments right on the web pages or wishes to work in teams. Comparing this tool to its closest competitors it undoubtedly deserves the first place thanks to a wide range of functions. Moreover, Diigo is in constant development and numerous useful features and characteristics appear on a regular basis to meet users' expectations.
Noplag is a leading writing education software that helps students throughout the world to master their writing skills and knowledge!
Collaborate and Share Social Bookmarks with Diigo Platform | Noplag Review