T

hanksgiving is one of the most celebrated holidays in the USA when people show their gratitude for everything they have: their family, consumed food, close friends etc.
Usually, it is a family holiday celebrated in the circle of near and dear. But not everyone can go home for a holiday nowadays: people traveling on business, ones lying in the hospitals or students studying far from home. The latter ones constitute the biggest number of people, who desire to be home on Thanksgiving day but not always they have this opportunity. As a result, many American colleges and universities decided to organize their own festivities that would become annual campus celebrations to allow students and staff, who can't celebrate this great holiday with relatives and friends, feel the festive atmosphere and not be alone on this day. Let us look through seven different ways how higher educational establishments organize celebrations of Thanksgiving.
Thanksgiving dinner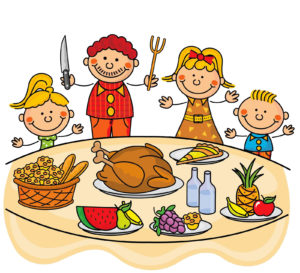 There is hardly anything more traditional than a dinner for Thanksgiving day. Its main dish, roasted turkey, makes thousands of mouths water only if to remember how it looks like. There are also other traditional dishes like pumpkin pies, potatoes, vegetables, and fruits etc. served on this day.
Ohio State University decided to take care of its students and treat them with the traditional Thanksgiving dishes to honor the holiday. This tradition started in the distant 1991 when the first dinner took place and hosted 35 students. With every passing year the number of dinner participants was increasing and in 2015 it has reached 1,800 people. Only imagine the volume of products for such a big number of people: the dinner included 120 turkeys, 180 pies and 1,026 pounds of potatoes.
The dinner is incredibly popular among international students who would like to dive into the American culture and enjoy a family dinner.
A Match-up program
Founded by Massachusetts Smith College staff this program is aimed at international students, whose relatives and friends are far away. The origin of this program is a college tradition when roommates of these students invited them for their family dinners. With the increase in the number of students from abroad, some of them do not have such friends and the college has offered an official match-up program for everyone to be engaged into Thanksgiving celebrations. This is the second year of the program and now both students and staff of the college welcome foreign students at their homes for them to have a real understanding of this holiday. Such matching-up has a goal to share experience and encourage international friendship.
Spirituality promotion
Despite the fact that Thanksgiving day is not connected to any specific religion one of the universities uses the whole month for promotion spirituality among its students. Carnegie Mellon University announced November a month to highlight the variety of faith traditions characteristic of this university campus. The main event of the whole month is the Thanksgiving Spirituality Dinner when students communicate and reflect on the variety of different faiths as well as watch video fragments where students explain their viewpoint on the fact what spirituality is.
It is a perfect way to finish studying before the holiday break and help students to communicate and meet new acquaintances.
A traditional run along the campus
Many universities organize competitions to honor one or another holiday. Thanksgiving is not an exception, especially for students of Lehigh University, who take part in the annual Turkey Trot. It is a perfect way to get rid of body fatigue after a substantial dinner. Previously, the 2.6-mile run took place a week before the holiday, but now this tradition was changed.
There are over 4,800 students in this university studying now and about 500 people take part in the run. It is the culmination of the holiday and a great tradition that promotes a healthy way of life, isn't it?
The March to Kreiderheim
Pennsylvanian Lebanon Valley College has another interesting tradition of celebrating the Thanksgiving day. Each year the team of the university has a football match against Albright College students. If the team of the first college wins, they organize a group walk to the college president's home and petition to have an additional day off for Thanksgiving celebration.
This tradition is more than 50 years old and this year over 450 students, the fourth part of the whole enrollment took part in this year's match. Students like this activity much as it not only unites both sportsmen and their fans and game spectators but also gives them an extra day to spend with the family. The president of the college never refuses the petition in the case of the team's victory – a great tradition to take an example of!
A family celebration at college
What can be better than a celebration of the Thanksgiving day in the circle of your family, college friends, and teachers! This opportunity is offered by Hesston College that organizes the annual holiday festivities for the whole families. It is a great opportunity to make your closest relatives involved into the important part of your life – education. The lineup offers activities for family members of all ages including meals, concerts, and talent shows, basketball competitions and a 2-mile run. Each person will find something to his taste as well as diversify the way of holiday celebration. This tradition dates back to the 70s when the first Thanksgiving Weekend was organized. Nowadays it is a great way for a student's family to be together on this day!
Dinner with the college president and his wife
Established as an annual tradition for international students Lindsey Wilson College offers a unique opportunity to visit the college president's house. Bill Luckey and his wife invite students to their house hosting a family dinner. They started this tradition in 1998 and this year they have served a table for 60 students, who couldn't celebrate this holiday with their families. Only imagine the volume of preparatory work to this dinner – last year there were 2 enormous turkeys and dozens of other dishes served! But this fact does not prevent Mr. and Mrs. Luckey from this charitable dinner as who else can show a good example for students if not a president's family.
---
With every passing year of education, colleges and universities become students' second homes and it is not surprising that the staff of these educational establishments wishes to provide students with a unique home atmosphere at least on Thanksgiving Day. Another reason for such traditional celebrations is a big number of international students, who either do not have this holiday on their motherland or do not have an opportunity to travel home for such a short break. The Americans are always happy to show their own customs and traditions and such celebrations at colleges and universities are a perfect way to do that.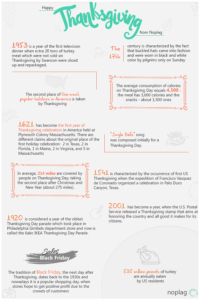 Happy Thanksgiving from Noplag!
Noplag is a leading writing education software that helps students throughout the world to master their writing skills and knowledge!
7 College Thanksgiving Traditions + Infographic