What is PowerSchool?
PowerSchool is an online learning management system that is used by over 100 million users. It is a single educational platform for K-12 students, teachers, and parents. However, curriculum, technology directors, and system admins will find many useful resources there too.
The platform offers simple, innovative and exciting solutions and an extensive API choice that allows using them in every classroom all around the globe. It is a modern system that is regularly updated and enhanced to make education more effective and interesting.
PowerSchool solutions and features
PowerSchool offers many innovative solutions for learners, educators and educational establishments including:
Unified Classroom
Unified Classroom is a unique classroom experience that connects home and classroom in the only unified solution. This technology is centered on a student and has a variety of useful functions that ease teacher's work and make learning more personalized.
There is a user-friendly interface that supports a unified calendar, searching, reporting, sending notifications, making notes, plan events etc. Moreover, the solution allows tracking attendance, grade, assign, assess, collaborate and offers many other useful functions.
360-degree view of the student
The technology of PowerSchool allows tracking everything a student does during the learning process. A teacher can monitor learner's behavior, attendance, the success of assignment completion, use of other online resources, discussions as well as have a full picture of the academic career progress and grades.
Various instructional strategies
The platform is easily accessible and is an LMS with blended learning content taken from curriculum providers and open educational resources. That allows teachers to adjust instructions regularly to achieve better students' experience.
Following student's performance in real time
This real-time visibility helps to define areas that are difficult for your students and create individual learning strategies for them.
Real-time collaboration of teachers, students, and their parents
Parents can become involved in their child's education right from home thanks to a unified classroom. They can communicate with the teacher as well as collaborate with learners.
Secure integration with other classroom tools
Teachers can use the platform in conjunction with other systems.
A single sign-on
As soon as you sign on the platform, you get an immediate access to all the apps.
Many integrated functions
Apart from a simple dashboard, there is a gradebook, assessment and different learning apps integrated.
Powerful SIS
Being SIS leader PowerSchool SIS has an intuitively understandable interface that helps both students and admins manage the educational process. It has an open architecture design and can be easily customized by using ISV apps.
Analytics
The system makes a leap forward in helping teachers make a decision based on data. Teachers can look through the comparative analysis of academic performance, attendance, intervention and state data to make necessary decisions and enhance the curriculum, instructions, materials etc.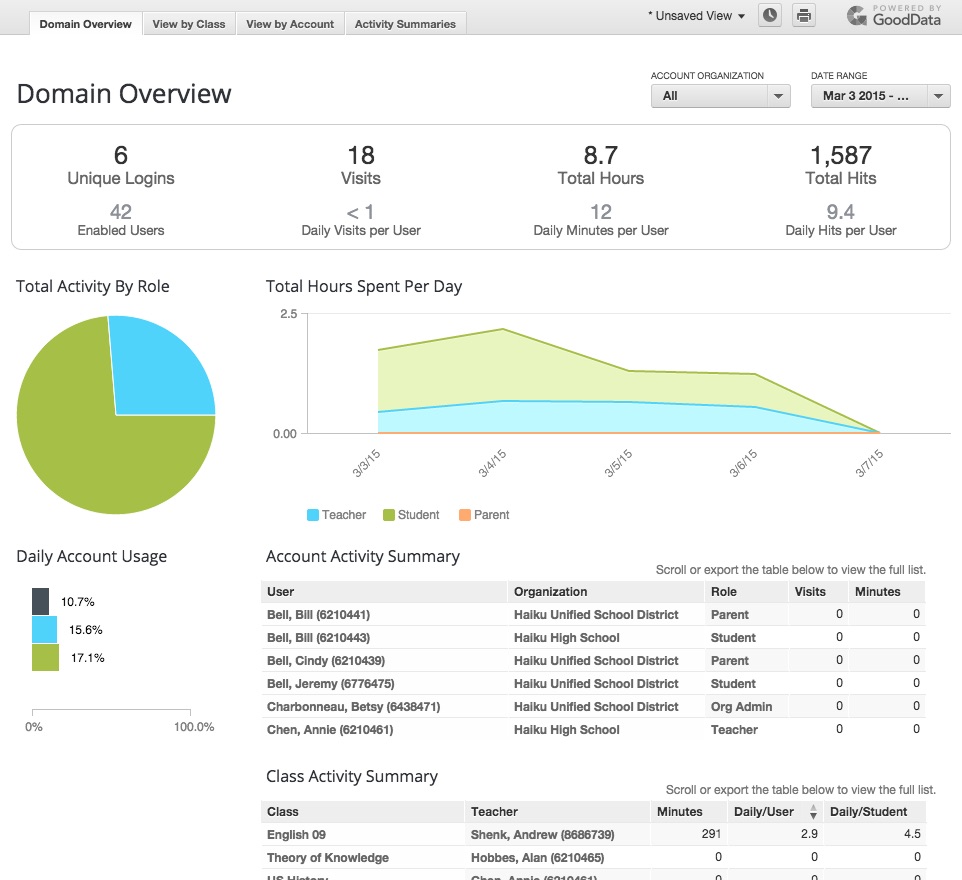 Reasons to use PowerSchool
As a platform offers a completely new K-12 experience. It would be nice to understand what they mean when they mention that:
Classroom experience is unified and that simplifies personalized learning and creating instructions.
Management for administrators is simplified.
Students performance and outcomes are enhanced.
Teachers can develop, become more efficient and save resources.
Not only students and teachers are engaged in learning, parents become involved too.
How does it work?
Whether you are a student, parent or educational establishment you can join PowerSchool only after you contact a customer support. You are asked to complete the online form on the website. There you should indicate who you are (a student, parent or teacher), your name, email address, school and district, country and tick what solutions you are interested in. Only then you may be given a demo version of the platform to evaluate its pros and cons on practice.
If your educational institution uses PowerSchool, you will need to get information only about sign on.
The cost of PowerSchool services is also available upon the request only.
Benefits of PowerSchool
The fact that PowerSchool has won The Journal Reader's Choice Award for the second time makes it apparent that users adore the platform and get many benefits to use it. Having analyzed the testimonials of PowerSchool users it is possible to mention the following positive sides of the system:
It is easy to use, get started and enter data. You should not have any special skills to use it as the interface and dashboard are intuitively understandable.
It allows storing and managing much information about school district students, for example, in one place, add and make necessary changes anytime and anywhere.
The platform is mobile friendly so it is possible to get an app too.
There are many integrations in the platform and it is compatible with other software.
Perfect for making reports as you can retrieve any information without obstacles.
Availability of regular updates and excellent customer support.
It helps to reduce the number of underachieving students.
All the data is stored securely.
The following features are only some of the benefits mentioned by users but still, they are mentioned almost in every review and it is undoubtedly that the platform has them in reality.
PowerSchool drawbacks
However, there are no perfect SIS and LMS. People will always find some negative sides as the more users, the more viewpoints on the same subject. A feature that is appreciated by one can be a disappointment for another person. But now we will focus on most widely mentioned drawbacks of PowerSchool listed in the feedbacks:
Some features are very difficult to access.
The price for using PowerSchool rises annually.
Lack of content organization.
Not all the requests are answered by the support team.
No offline version so it is impossible to work without the Internet access.
Conclusion
PowerSchool is a very popular and professionally built educational platform that has been appreciated by millions of people. It has been given several awards and that is not surprising. The system allows managing different school process and connecting numerous innovative classroom technologies. Thanks to the constant development the platform keeps up with modern educational trends and allows educators to use them in practice too.
Noplag is a leading writing education software that helps students throughout the world to master their writing skills and knowledge!
PowerSchool – Learning Management System | Noplag Review