W

hat is Memrise?
Memrise is a language and vocabulary learning platform. It is focused on the combination of memorizing techniques and entertaining materials to make language mastering easy and funny.
There are over 300 thousand different language courses that are available in 25 languages. It has over 20 million of signed in users, who learn over a billion things every month.

The company was founded in 2005 in the USA by Greg Detre, Ed Cooke, and Ben Whately. They are professionals in memory and neuroscience, who have won the Princeton Entrepreneurship Club 2009 TigerLaunch competition. They launched a startup in 2010, the beta version of which was appreciated by many professionals. In 2012 the first version of the tool was offered to ordinary users and the next year there already was a demand for an app because of the project popularity.
The platform has received many awards. It was called one of the Best Apps for Android in 2015. The same title was given to Memrise app for iPad and iPhone in many countries of the world. In May 2017 it was recognized to be the overall Best app winner by Google Play awards.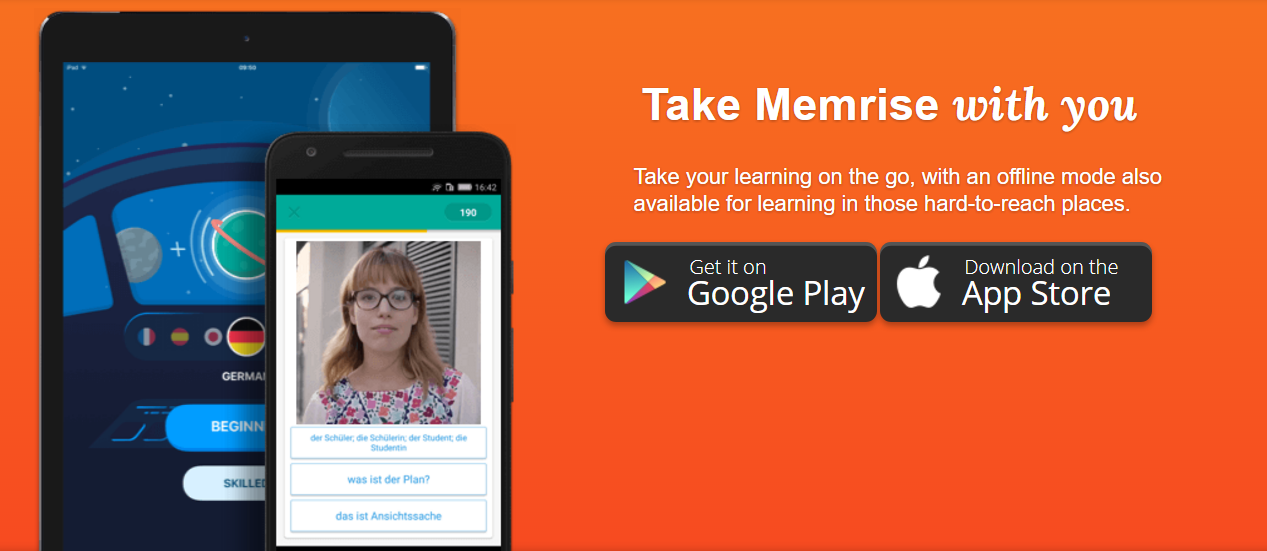 What exactly has made the platform so popular? As it is mentioned on the website there are 3 important ingredients of success:
Science
The developers have taken into consideration all the popular techniques for better memorization. Use of brain science helps users to remember new vocabulary quickly and without much effort. That is done with the help of mems for the creation of both vivid and long-lasting memories with regular repetition.
Fun
The next ingredient is making learning a real entertainment. The platform creators have made an accent on encouragement and motivation, as learning via playing is much more interesting and engaging.
Memrise is compared with a garden of flowers, where every new remembered word is a flower planted into the memory garden.
Community
Learning must be varied so the community that develops the tool constantly works on making it rich: users are offered numerous materials including video, audio, interactive materials, mnemonics, etymology etc. Every learner is suggested sharing his viewpoint on the topic how to make service more effective and exciting.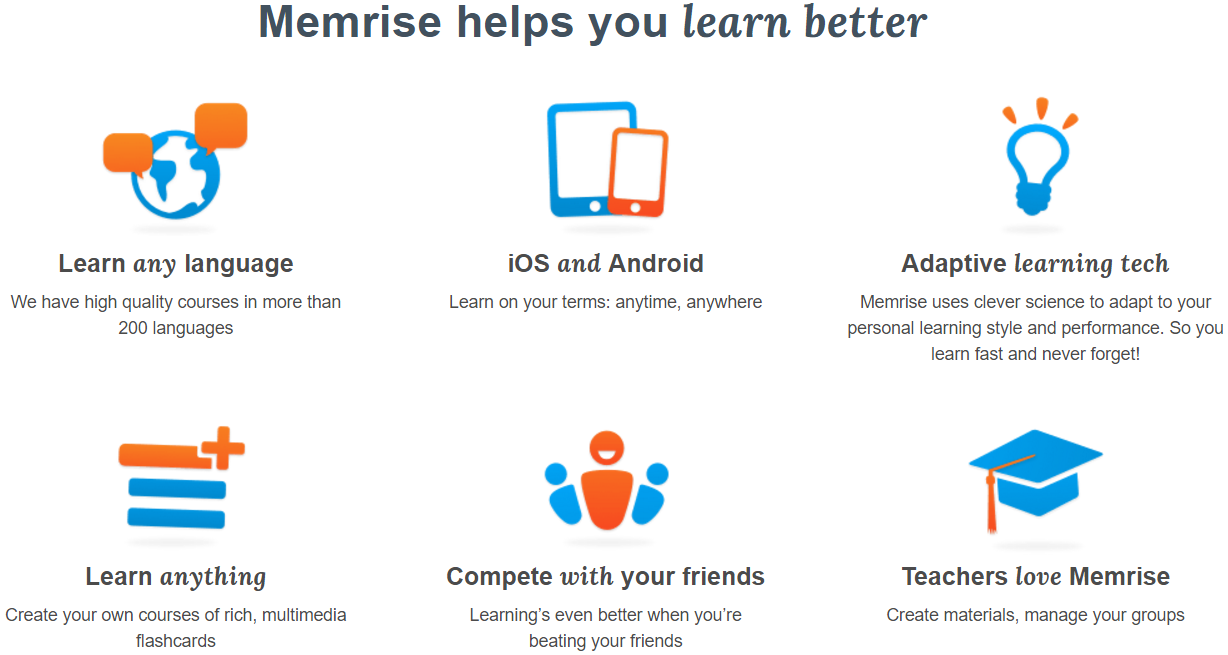 The objective of the service is to provide language learners with a better experience, so it has many useful features including:
Many different courses in more than 200 languages;

Responsiveness and mobile versions of the service to learn anytime and anywhere;

Learning technique is adapted to every user individually;

Possibility to act as a teacher and create your own learning materials;

Competition-based learning for greater motivation and interest;

Suitable for group learning, so valued by teachers.

Memrise is a completely free platform for users that even does not support advertisements. That makes user experience pleasant and comfortable. At the same time, you can expand the service functionality by purchasing a paid version known as Memrise Pro (Memrise premium account).
It is said to mark learning even more joyful, effective and fast. There are 3 additional tools for more higher efficiency:
Difficult words
Words that have caused mistakes for several times can be marked as difficult automatically due to the built-in algorithm. You can add and remove difficult words from the list that is unlimited. The system will show you only 20 words from the list to improve memorizing.
Listening skills
Listening comprehension is incredibly important for a better language fluency. You can improve your oral comprehension of the learned words by starting this session. Users are offered different types of tasks such as tapping, typing, and multiple choice.
Learning Statistics
Motivate yourself by tracking your progress. Set and break your personal records, control your learning pace, be proud of your achievements.
The Learning Statistics will show you in which courses you are the most professional, at what time of the day you work more effectively, your learning speed, accuracy, longest learning streak etc.

Users, who wish to expand the vocabulary in the foreign language, are offered to choose it from the list. The most popular Memrise languages are English, French, Spanish, Japanese, German, Korean, Italian, Chinese and Russian. But you can also opt for learning such rather rarely met languages as Basque, Burmese, Ancient Greek or Kanji. There are over 200 of them available on the website.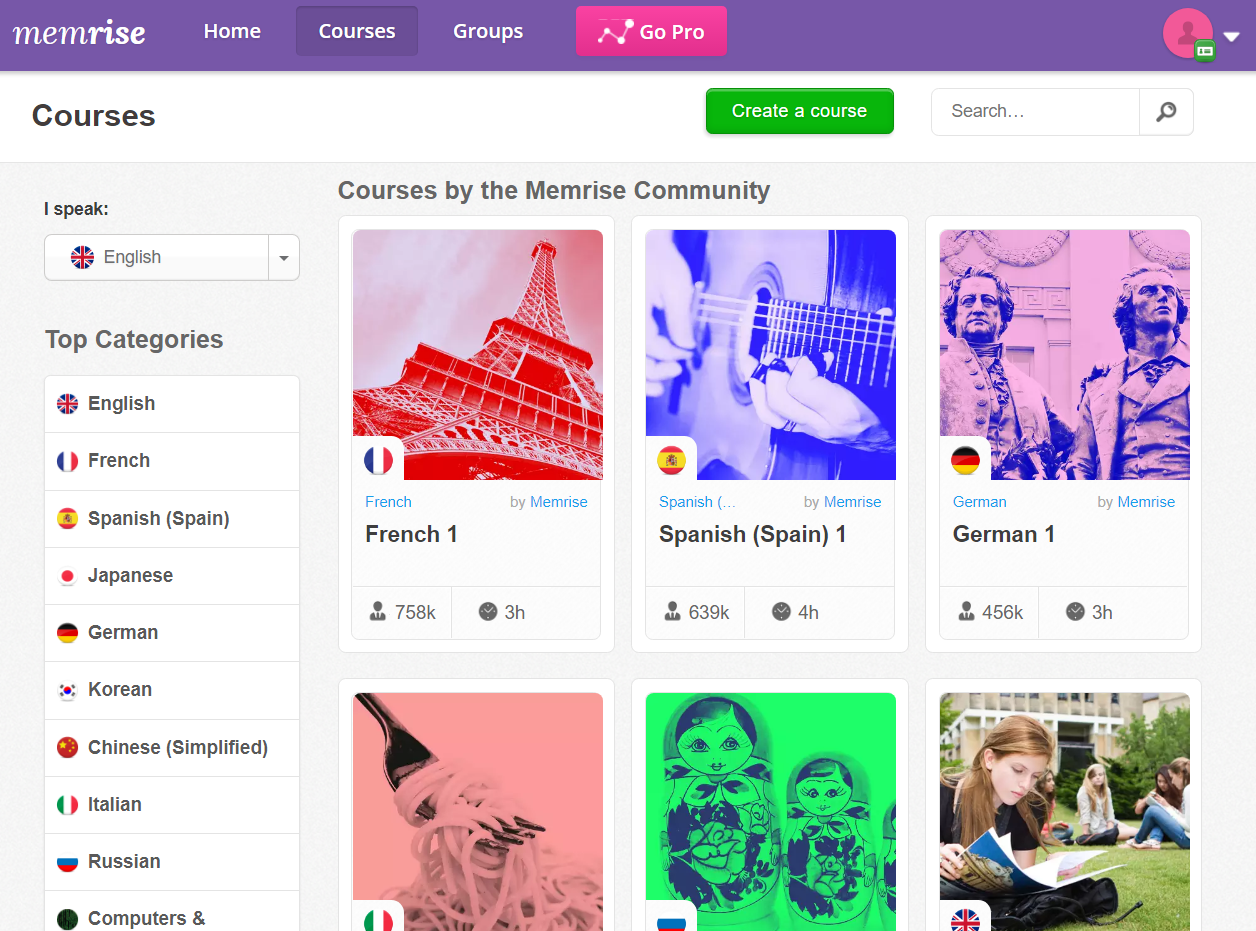 You can also select a category of words to learn. The most widely used ones are the following ones: languages, arts and literature, math and science, the natural world, history and geography, profession and career, entertainment, computers and engineering etc. There are also standardized tests too.

The main approach Memrise is based on is called "elaborate encoding", where users remember not raw words but the association between the concept and its translation. The service can test the learner in different ways making memory long-term by implementing regular spaced repetition.
If you wish to start learning a language, visit the homepage and sign up. You will be offered to choose your native language and one you wish to master.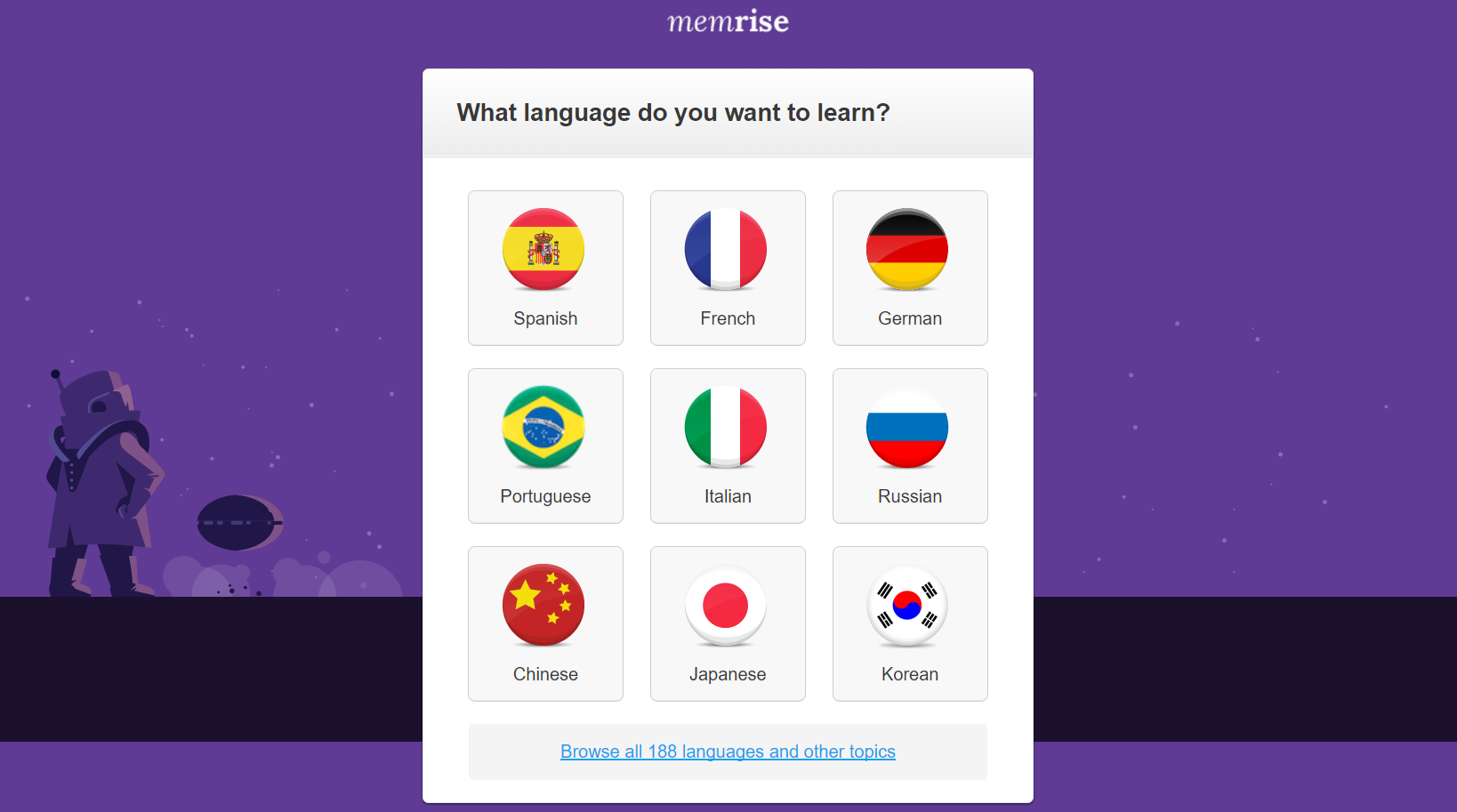 Then it is time to choose a course from the list that also indicates the number of users, who are learning it now, the average course length and the author, who has compiled it.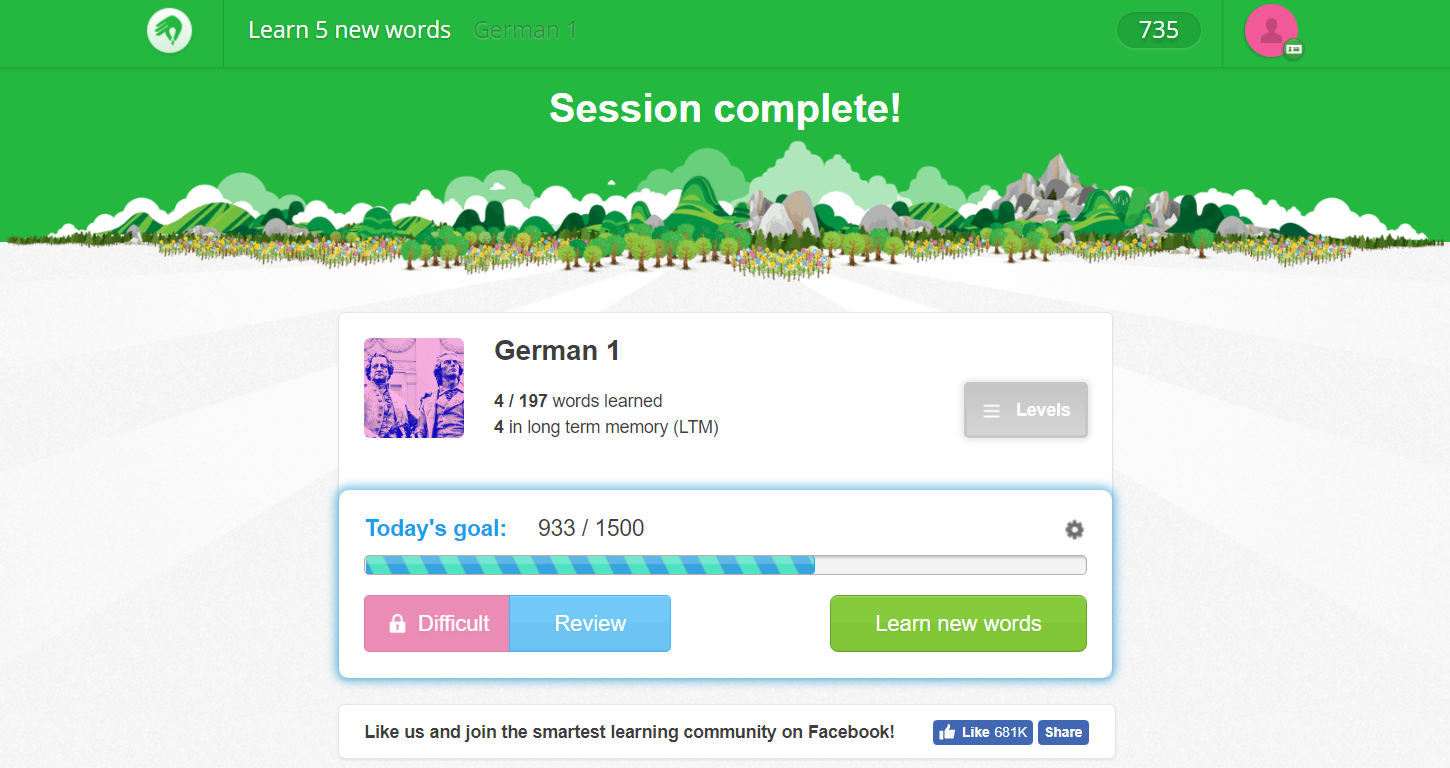 Having finished courses or learned a definite number of words you are given points that allow you to promote to different ranks.
The most popular languages to learn are also categorized into sections like Beginner, Intermediate, Advanced to choose the required vocabulary in accordance with the level.

Memrise is not the only popular tool to learn foreign languages. There are many other competitors in this field including Duolingo, Inc., Voxy etc. But Memrise users still state that this service stands out among other similar platforms thanks to the following benefits:
It is completely free and accessible.

The Learning technology is highly effective.

An impressive list of supported languages.

The tool is regularly updated and developed.

The absence of annoying advertising.

Game-based and joyful learning.

Mnemonics is highly efficient in vocabulary learning.

Possibility to create your own courses.

Nevertheless, in comparison with other competitors, Memrise has several weak points. One or another Memrise review mentions the following drawbacks of the service:
Lack of material structuring and organization.

Limited grammatical aspect.

You need to look through hundreds of courses to find a suitable one as some courses are of little value.

Not suitable for high-level students because of the restricted number of mnemonics.

The web application is of better quality than mobile ones.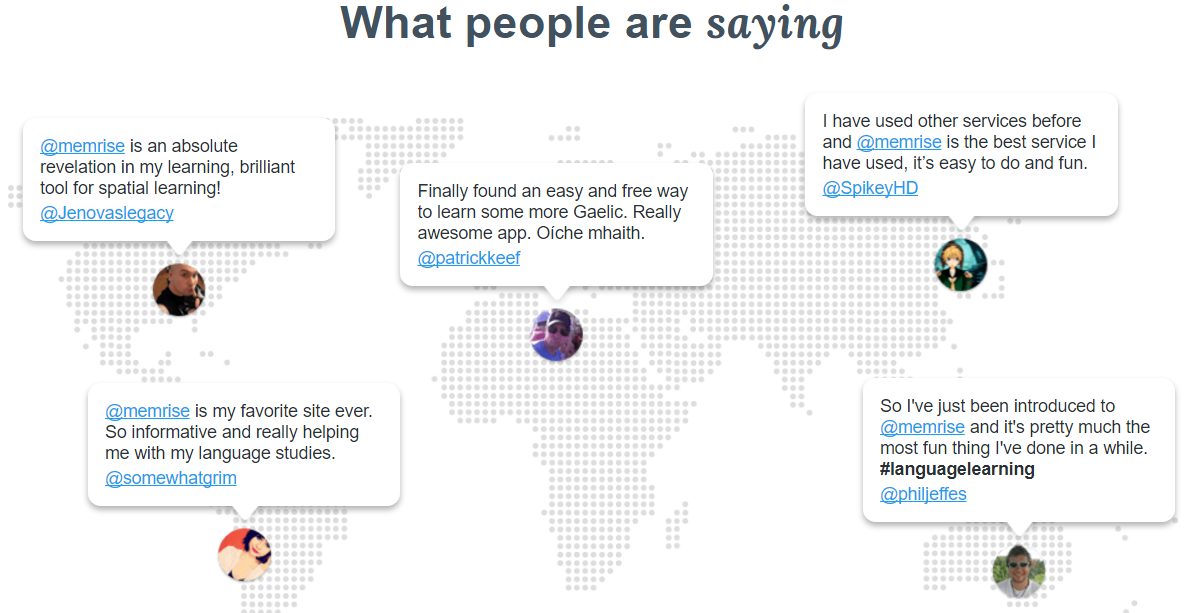 Memrise has been created by the champion in memory and his unique experience made it possible to help other people too. Learning languages is not an easy task and the most difficult thing in this process is remembering hundreds of words. Memrise has simplified this process, so every person can expand his vocabulary without much effort. What is more important, using the tool people not only learn new words but also train their memory and improve their brain work in funny and exciting ways – a perfect leisure activity that brings about wonderful profit.
Noplag is a leading writing education software that helps students throughout the world to master their writing skills and knowledge!
Memrise – a Free Language Learning Website | Noplag Review