W

hat is LucidChart?
LucidChart is a cloud-based service that allows creating diagrams of various types. It is also known as a flowchart software with the possibility to create organizational charts, mind maps, prototypes, wireframes etc. It is supported by most of the popular browsers and platforms.

The developer of the service, Lucid Software, started it in 2008 and called it a visual platform for collaboration. The current software was released in 2010 and quite soon was called the main competitor of Microsoft Visio, software referred to LucidChart alternative. Today it has over 8 million users including renowned all over the world companies.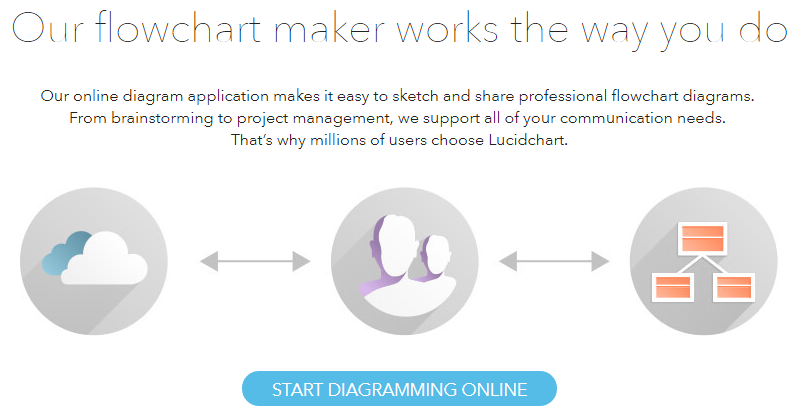 Being both a collaboration and flowchart creation tool LucidChart has the following features:
Being a cloud-based tool. There is no necessity to download or update the tool as it is done automatically. There is also a possibility for multiple users to work on one chart simultaneously.
Collaboration. Numerous features of the service like commenting, video chat or in-editor chat

make it perfect for teamwork.
Several options to save results. You can print your final result in three formats – JPEG, IMG, and PDF. There are also possibilities to publish the result online, share it by e-mail or by a link provided.
A diversity of shapes. The shape library of the tool is rather wide to choose from.
Customization. You can customize the tool and shapes in accordance with your preferences. That concerns shapes, templates, lines, insertion of images etc.
Compatibility and integrations. It is the first tool to import files created with the help of Microsoft Visio, the leader of the diagram creation tools. There are also integrations with G Suite and Drive, Confluence, JIRA, and Jive.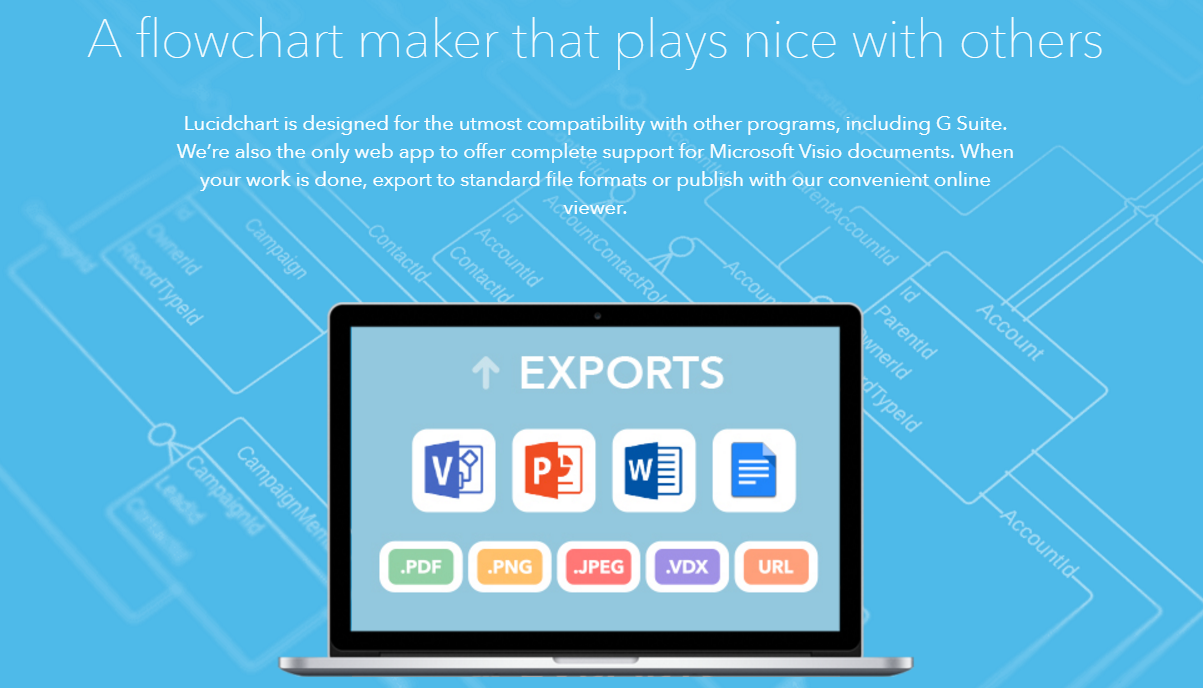 Security. The web application guarantees the high security of information by means of data encryption, robust backup, and secure data centers.
Revision history. There is a step-by-step tracking of your progress in diagram building, so you can reverse any changes or look through the information who, when and how has made changes to the document
Drag-and-drop functionality. It is very simple to create lines or shapes as it is enough to drag-and-drop it to the right place.
Dedicated support. The staff is always ready to answer any questions on the forum or by e-mail.

Many reviews refer LucidChart to the best flowchart software thanks to its intuitively comprehensive user interface. You can choose a shape, drag-and-drop it to the right place and fill in the typed text. The shape will increase in its size automatically depending on the text length. The text is automatically checked for spelling, so it is not difficult to make presentations look professional. There are numerous connector points to the symbols and junction jogs too.
For the whole diagram to look organized and appealing you can click "Clean Up Layout" button. It will adjust all the parts not to look cluttered.
It is also quite simple to use other important functions. You can:
Add pages and layers to your diagram;

Make links between them;

Use extendable canvas;

Create organizational charts using CSV files etc.
Users can secure their diagrams with the password as well as assign people who can look at or edit them. The presentation feature will make it accessible for everyone at the meeting, for example, while 20 categories of diagrams with more than 100 templates make it useful for a variety of professionals.

The prices of LucidChart flowchart software can be called rather reasonable taking into account vast functionality. Users are offered to sign up for LucidChart free to have a limited version with no more than 60 objects in the document. According to the website support, you can access your files anytime even if you do not opt for a paid version.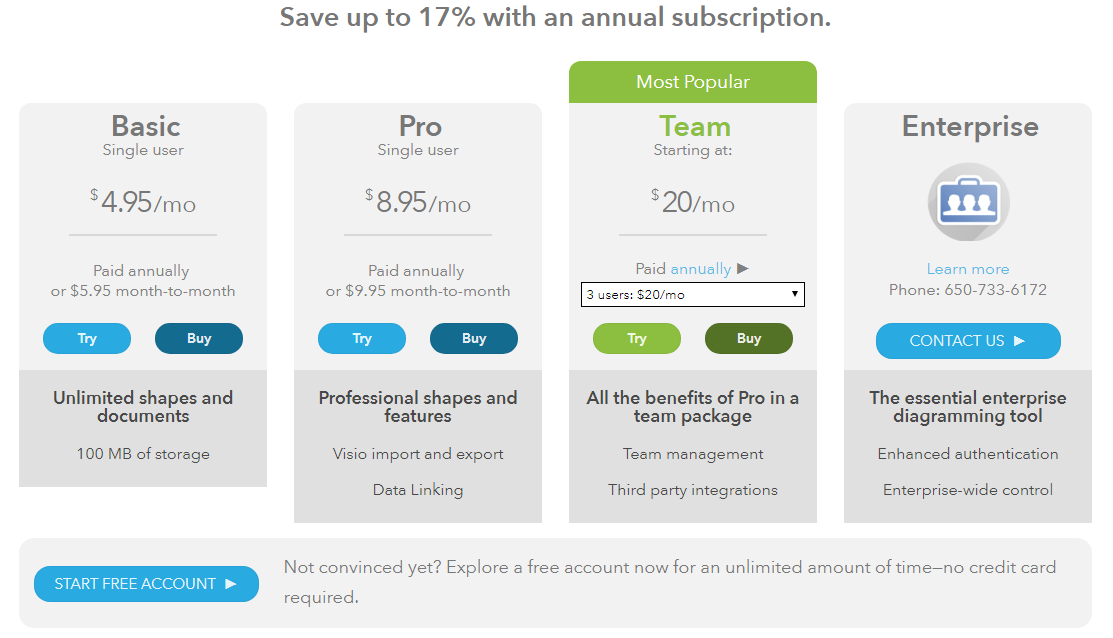 There are also 4 paid subscriptions available:
Basic for a single user.
It costs $4.95 per month if paid annually and $5.95 per month if paid monthly. Users receive unlimited shapes and documents as well as 100Mb of storage.
Pro for a single user.
It costs $8.95 per month if paid annually and $9.95 per month if paid monthly. Users receive professional shapes and features, Microsoft Visio import and export, data linking.
Team
There are prices for a different number of users. You can start from 3 users for $20 per month and finish with 100 users for $600 per month. Team package includes all the Pro account features and also offers team management and 3rd party integrations.
Enterprise
The prices for this package are determined individually. The functionality is also very wide including enhanced authentication and enterprise-wide control. Among the prominent users of LucidChart, you can see such acknowledged clients as Netflix, Ford, Xerox, Duke and Yale Universities, Ralph Lauren etc.

To understand the reasons why LucidChart is ranked one of the best flowchart software it is important to analyze the reviews of its users. They mention the following benefits of the web application:
Simple and intuitively understandable interface;

A wide range of functions;

The only tool that offers iPad application;

Web app is responsive;

A plenty of libraries and ready-made templates;

A variety of integrations;

Comfortable collaboration tool;

Professional support team.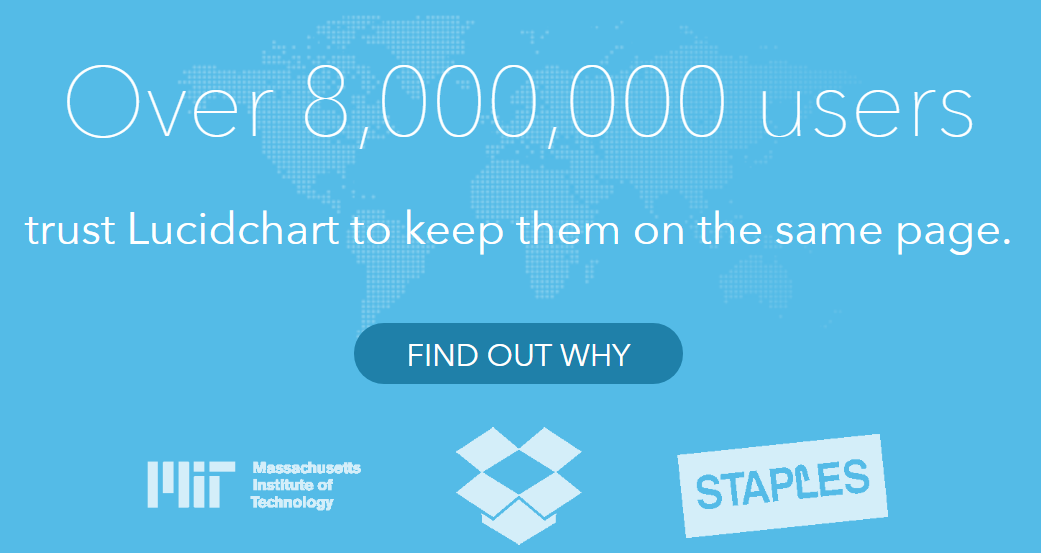 Users' experience also helps applications to become better, so tool creators should consider some drawbacks of LucidChart mentioned in the feedbacks:
Phone support is included only in the Enterprise package;

It may take much time to load the files;

No enumeration of shapes;

Requires some styling;

Inability to work offline;

Pricey for more features.
LucidChart is a popular tool that helps people organize their thoughts in diagrams, mind maps, and many other different charts. The app is aimed at IT and Engineering representatives, business, and people dealing with product management and design. It has gained recognition of many large companies and has become a decent alternative to Microsoft Visio. Thanks to a wide range of functions LucidChart combines features of flowchart creation, collaboration and presentation tool making it perfect for a solution for a variety of different tasks.
Noplag is a leading writing education software that helps students throughout the world to master their writing skills and knowledge!
LucidChart – One Of The Best Diagramming & Wireframing Apps | Noplag Review