W

hat is Any.do?
Any.do is a cross-platform task management tool that was launched in 2011. It has got over 15 million users and last year a new version 4.0 was launched. It originates from Taskos, the first app founded by Any.do developers Omer Perchik, Itay Kahana and Yoni Lindenfeld.
Any.do is available on most of modern devices and platforms including Android, iOS, iPad, Any.do Chrome extension as well as a web application. It allows to create both personal and group to-do lists and manage projects. Being also a great collaboration tool teams can add notes, comments to the tasks, attach files etc.

Any.do offers a quite extensive number of features for a task manager app.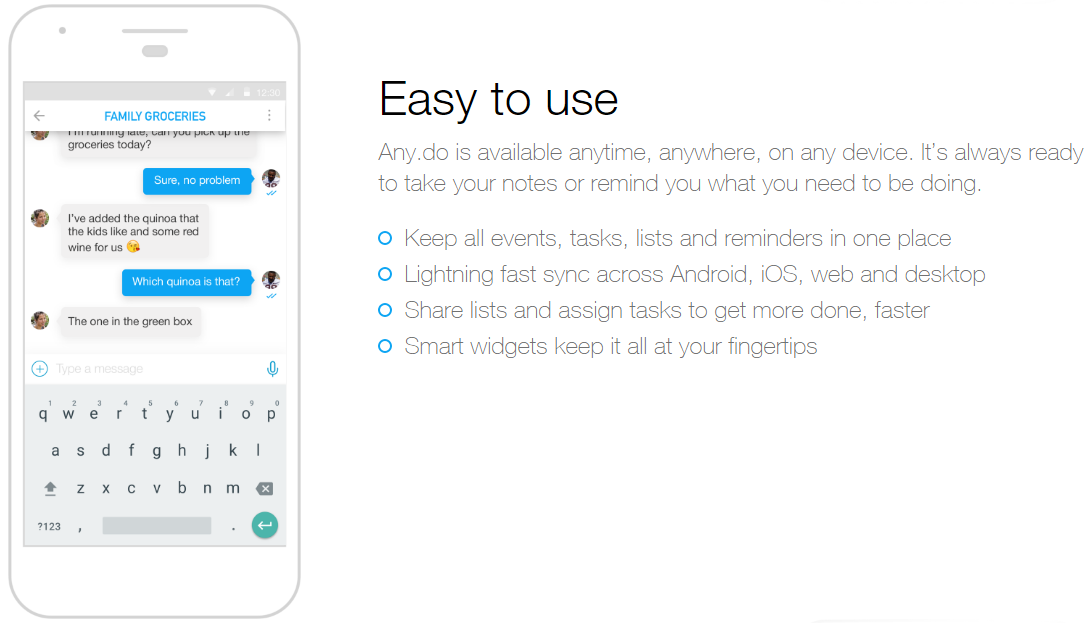 All of them can be subdivided into several groups:
Task management or to-do:
There are unlimited lists of tasks that can be customized in accordance with the user preferences;

You can share lists with other people or delegate tasks to them;

Voice recording;

Integration with numerous apps;

There is an auto-suggest feature that provides predictive content;

Reminders that can be set by time or location;

Simultaneous synchronization across all existing devices.
Plan or set priorities:
Any.do Moment encourages the app users to start every new day with the creation of to-do lists;

You can reorder tasks anytime as well as prioritize them by levels;

Notifications can be postponed if necessary.
Calendar:
There are several views of the tasks and events to happen (daily, weekly, monthly or set by yourself);

There is an integration both with the mobile phone or FB calendar;

Tasks and to-do lists can be assigned to events and meetings;

There is a 1×1 Meeting Feature for coordination of time to meet with the person.
Assistant help:
You can delegate tasks to Any.do assistant and have some duties done for you.
The assistant can be helpful with such tasks as groceries, flowers, gifts, cleaning, laundry, repairs and many others. Using AI it automatically reviews your tasks marking some of them to be completed for you. As soon as you approve the assistant's offer, you will be connected to a team of both robots and humans that will help you to have your task completed.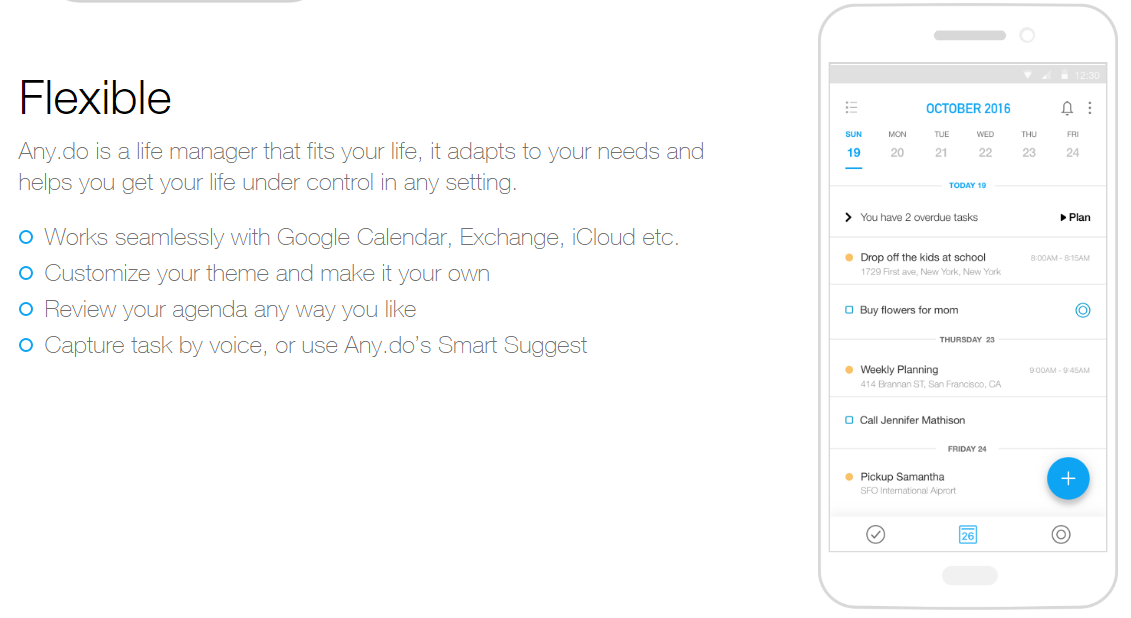 The other necessary features offered by the planned are the following ones:
Uploading and sharing files of different formats;

Creation of subtasks;

Making shortcuts of certain actions;

Some functions are available offline;

Group collaboration;

Drag-and-drop feature in the lists for comfortable user experience;

Tile navigation;

Three types of task sorting: by time, lists, priority;

Planning calls with "Call later" feature etc.

The closest Any.do competitors are Hitask, Wunderlist, and Todoist, but every app from this list is more expensive than this best to do list app.

Let's see the prices for Any.do packages.
First of all, it is important to mention that the app offers a free trial version that includes the following features:
Task sharing is possible only with 2 people;

Uploaded files should not exceed 1.5 Mb;

Moment function can be used once in 5 months;

Only two themes for the interface are available;

Regularly reminders without more advanced settings.
The premium version will cost its users differently depending on the number of devices used and the way you prefer to pay.
The use of one device costs $2.09 per month if billed annually.

The use of unlimited devices costs $2.24 per month if billed annually and $2.99 per month if billed monthly.
Users of the premium version get the following features:
On-the-spot reminders for planning efficacy;

Any.do Moment feature – a primer for every day that controls your work with the to-do list and encourages to reschedule or complete some tasks;

Unlimited collaboration and attachments;

Recurring tasks and themes can be customized to your preferences.
Many Any.do reviews call it the best task manager thanks to the number of benefits it offers. The most common of them are the following ones:
Intuitively understandable and user-friendly interface.

It helps to stay organized and coordinated.

Availability anywhere and anytime on any device.

The synchronization across devices is simultaneous.

Possibility to do everything faster and in collaboration with other users.

Flexibility and a variety of integrations.

Presence of action shortcuts opens a variety of additional features that can be used within one application.

Not only time-based but also location-based reminders work effectively.

Attachments of files of various formats such as video, image, PDF, audio etc.

Moments feature helps to stay alerted and informed on a daily basis.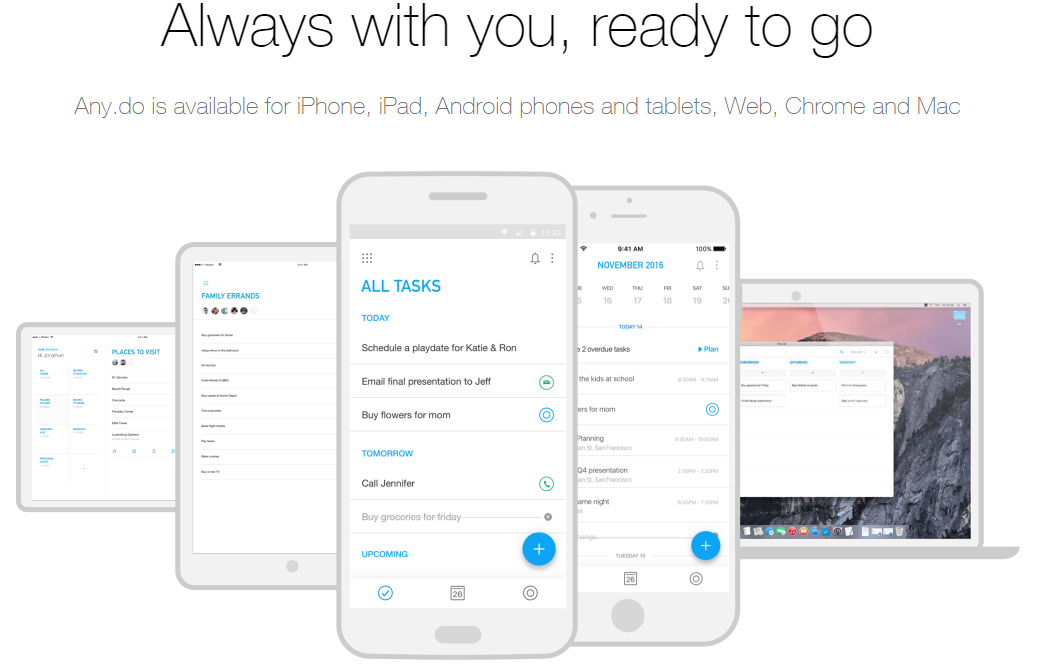 In comparison with its closest competitors Any.do has a relatively small number of drawbacks, but still, they do exist. Having analyzed users' reviews we have found out the following negative aspects:
Limited free version.

No desktop version.

The absence of customary contexts and GTD tools.

Only one level of subtasks – no possibility to expand.

The support of languages differs from one device to another.

Not suitable and adaptable to large business.
Any.do has combined features of a task management, to-do list, and project collaboration tools. It offers an extensive number of features some of which can even substitute a personal assistant. The app is useful for personal use as well as small and mid-size businesses. Its free version can be used by everyone to appreciate the benefits of a good task planner while a premium account will open many other great functions to be in handy.
Noplag is a leading writing education software that helps students throughout the world to master their writing skills and knowledge!
Jot Down Tasks And Goals With Ease With Any.do To-Do List App | Noplag Review